Bryan Cranston's underwear sold for nearly $10,000 at 'Breaking Bad' auction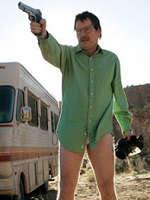 WENN

One "Breaking Bad" fan is now the proud owner of a very intimate piece of TV history after paying almost $10,000 for Bryan Cranston's tighty-whities.

Bing: 'Breaking Bad' opera in the works

The underwear worn by Cranston's meth-making character Walter White on the show's pilot sold for a $9,900 at auction. The sale, held over 10-days in New Mexico, was held by Sony Pictures to give avid viewers the chance to own part of the drama.

Tell us on Facebook: Are Walt's undies a worthwhile investment?

Other items which pulled in major amounts included White's inscribed edition of "Leaves of Grass," which sold for $65,000, while the character's Cadillac pulled in $19,750 and the pivotal pink teddy bear earned another $23,250. In total, the auction raised around $1 million, which will benefit Goodwill of New Mexico programs.