Carol Channing to commemorate 50th anniversary of 'Hello, Dolly!'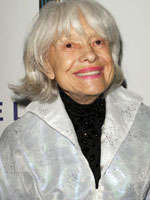 WENN

Veteran actress Carol Channing is set to return to the stage for the first time in eight years to celebrate the 50th anniversary of her hit musical "Hello, Dolly!"

The "Love Boat" star will be interviewed by Broadway performer Justin Vivian Bond at New York's Town Hall for the one-night-only event in January, which will feature celebrity tributes and footage from Channing's career, according to The New York Times.

Channing starred as Dolly in the 1964 theatre production, which won her a Tony Award for Best Actress in a Musical. She went on to perform in two Big Apple revivals of the musical in 1978 and 1995 and toured with it throughout the U.S.