Cee Lo says Christmas album is 'the real deal'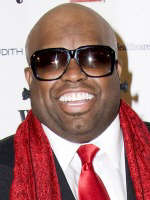 LOS ANGELES (AP) -- Just call Cee Lo Green music's newest Santa Claus.

The 38-year-old singer-rapper is working on a Christmas album that he promises is "the real deal."

Bing:Cee Lo's Vegas act

Green said in a recent interview that the album, "Cee Lo's Magic Moment," is a "soulful take on a host of Christmas classics."

Among the tunes to be included on the Elektra Records album are "Silent Night," ''The Christmas Song," ''This Christmas," ''You're a Mean One Mr. Grinch" and "White Christmas."

Rod Stewart, B.o.B. and Straight No Chaser are among the featured artists.

Also:Cee Lo Green signs first-look deal with NBC, may star in comedy

Green's Christmas album will be released Oct. 30. The "Forget You!" singer is back this week as a coach on NBC's "The Voice," which begins its new season.