Correction: Ellis Island story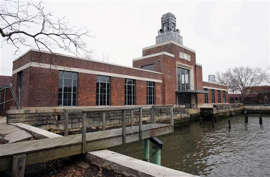 NEW YORK (AP) — In a story Oct. 24 about Ellis Island reopening, The Associated Press erroneously reported when artifacts were moved. They were moved after the storm, not before.

A corrected version of the story is below:

Ellis Island museum to reopen Monday

Ellis Island museum to reopen Monday, a year after Superstorm Sandy struck, flooding the area

By COLLEEN LONG

Associated Press

NEW YORK (AP) — Ellis Island will reopen to the public Monday, almost exactly a year after Superstorm Sandy's swells reached 8 feet and badly damaged the former U.S. immigration entry point.

"We are delighted to be able to share Ellis Island's uniquely American story with the world once more," Superintendent David Luchsinger said in a statement Thursday.

The Oct. 29 storm swamped boilers and electrical systems, and the 27.5-acre island in New York Harbor was without power for months.

The Ellis Island Immigration Museum, housed in the main building on the island, showcases the stories of the millions of immigrants who passed through the island to start their lives in the United States.

More than a million documents, photographs and other artifacts at the museum survived the storm but were later moved because it was impossible to maintain the climate-controlled environment needed for their preservation, the parks service said.

While the halls and buildings will reopen, the artifacts remain in a temporary storage facility in Maryland, park officials said. There's no estimate on when they will return to the island, because considerable work to upgrade and fix the buildings is still ongoing.

"You're not going to see a complete restoration of Ellis Island for a while," spokesman John Warren said.

Crews are still working on revamping so that the next bad storm won't leave the island shuttered for a year, he said.

Nearby Liberty Island, which also flooded during Sandy, reopened on July 4th but was closed during the partial federal government shutdown.

"I can think of no better way to celebrate Lady Liberty's 127th birthday than to welcome visitors back to the place where those 'huddled masses yearning to breathe free' first came to our shores," Luchsinger said, referring to a line in the Emma Lazarus poem "The New Colossus," which is engraved on a plaque hung inside the statue's pedestal.

There's no cost estimate yet on how much it will take to repair and revamp the island.