'Country Bumpkin' singer Cal Smith dead at 81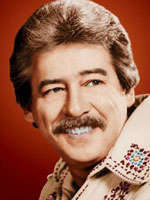 WENN

Country music legend Cal Smith has died at the age of 81.

The "Country Bumpkin" hitmaker passed away at his home in Branson, Missouri on Thursday. No further details were available as WENN went to press.

Bing: Listen to 'Country Bumpkin'

Born Calvin Grant Shofner in Gans, Oklahoma in 1932 but raised in California, Smith started in the music business aged 15 by performing at a cafe venue in San Francisco and spent two years in the military before Ernest Tubb hired him for his band, the Texas Troubadours.

Smith went on to enjoy a successful solo career throughout the 1960s and '70s, cementing his reputation as a major force in country music.

He is survived by his wife Darlene, five children, and fifteen grandchildren.