Foo Fighters remain defiant over noise complaints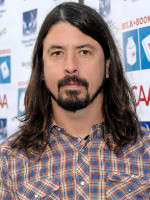 WENN

The Foo Fighters have shrugged off controversy over their gig in Northern Ireland on Tuesday after hundreds of residents complained about the noise.

Bing:Plug pulled on Springsteen and McCartney

The band headlined the first night of the Tennent's Vital festival in Belfast's Osborne Park, but the gig was marred by a barrage of angry phone calls from locals who contacted authorities to complain about the sound from the show. Belfast City Council received around 120 calls, while the police reportedly received 20 complaints.

More:Artists to play Levon Helm benefit concert

Dave Grohl and his bandmates they posted a defiant message on the band's official Facebook page Wednesday, linking to an article about the gig and quoting a famous AC/DC song. The message reads, "A wise man once said... Rock and Roll ain't noise pollution. Rock and Roll ain't gonna die."