George W. Bush heads to Leno's stage next week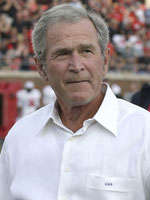 LOS ANGELES (AP) -- George W. Bush is headed back to Jay Leno's show next week.

NBC tells The Associated Press that the former Republican president will discuss his post-White House life with Leno on the "Tonight Show" on Nov. 19.

Bing: Leno downplays Letterman feud

Since leaving the White House in 2009, Bush has intentionally avoided the Washington political scrum and rarely gives lengthy interviews.

He told ABC earlier this year he wants to "stay out of the limelight."

It will be the fourth time that Bush has been a guest on Leno's couch. His first appearance was in March 2000.