Ghana mourns loss of poet killed in Kenya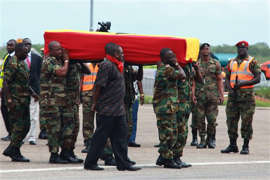 ACCRA, Ghana (AP) — Mourners sang funeral dirges and traditional leaders poured libations Wednesday for beloved poet Kofi Awoonor as hundreds gathered at the airport where his body was brought home days after he was slain in the Kenya mall terror attack.

Awoonor, 78, was a literary icon in his native Ghana, and was known worldwide for his innovative style that translated the rhythms of his Ewe language into English. He also was a veteran diplomat, and top government officials and members of parliament came to the airport.

Awoonor had been in Kenya with his son to take part in the Storymoja Hay Festival, a four-day literary event, when he was among the more than 60 civilians killed at the Nairobi mall. His son Afetsi, who was wounded in terror attack, returned to Ghana on Wednesday with his father's body.

The casket then was taken from the airport in a hearse that was followed by two soldiers playing the bugle, and traditional leaders dressed in red and black.

"It is a big tree that has fallen," said his brother, Robert, who was among those gathered at the airport.

Kofi Awoonor was the eldest of 10 children in his family, and relatives said he had paid school fees for hundreds of people.

Awoonor, who studied at the State University of New York at Stony Brook, later taught at universities in Ghana and the United States. He also had served as Ghana's ambassador to Brazil, Cuba and the United Nations.

His works are taught in high school English literature classes across the continent, and his latest book "Promises of Hope: New and Selected Poems," is due out next year.

Awoonor was one of the pioneers of African literature "who used literature as a tool of emancipation, of independence and of African unity," said Malian writer Manthia Diawara.

Awoonor sought to create a new form of African poetry that mirrored the style of the African griots, or traditional storytellers, Diawara said.

"He used both the rhythmic form, and sometimes used the same words as in the local language. ... He took sayings, funeral dirges or wedding celebrations, and put them into English, in a well-worked manner," said Diawara, a professor at New York University, where he heads the Institute of Afro-American Affairs.

Awonoor's death prompted an outpouring of grief from his peers, with some fellow poets issuing their reaction and words of condolence in verse.

"The new night is livid with silences, wet ones. In this time without light, no sound, no word oozes out of empty hearts here," Wanjohi Wa Makokha wrote in an online tribute. "The artists of Evil write verse thus?"

The family plans a funeral for Oct. 3, followed by a state memorial service on Oct. 11 and a final burial in his hometown in southeastern Ghana on Nov. 11.

His longtime friend and fellow academic Kofi Anyidoho said he would be remembered "for his strict adherence to the truth no matter what."

"He was a teacher in many ways to a whole lot of us and we would remember him," he said.

Kwasi Gyan-Apenteng, president of the Ghana Association of Writers, said in a statement that Africa has lost "a literary giant" and quoted Awoonor's own words in describing the legacy of his work.

"I have gone through the trauma of growth, anger, love, and the innocence and nostalgia of my personal dreams. These are beyond me now," Awoonor once wrote. "Not anger, or love, but the sensibility that shaped and saw them as communal acts of which I am only the articulator.

"Now I write out my renewed anguish about the crippling distresses of my country and my people, of death by guns, of death by disease and malnutrition, of the death of friends whose lives held so much promise, of the chicanery of politics and the men who indulge in them, of the misery of the poor in the midst of plenty."

___

Associated Press writers Francis Kokutse in Accra, Ghana; and Rukmini Callimachi in Dakar, Senegal contributed to this report.