'Gravity' grosses $1 million from New York IMAX theater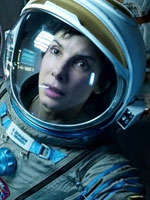 By Brent Lang
TheWrap

"Gravity" will generate $1 million from a single IMAX theater in New York City, the wide-screen company told analysts during an earnings call on Thursday.

Of course the multiplex in question, AMC's Lincoln Center location, happens to be one of the busiest theaters in the country, but that's still astounding and a testament to the success of Alfonso Cuaron's space epic as a motion picture event.

Bing: Oscar buzz for Sandra Bullock

"The success of 'Gravity' shows there's a place for 3-D with the right movie," IMAX CEO Richard L. Gelfond told analysts.

"You're bringing people who wouldn't otherwise go to the movies," he added.

Greg Foster, chairman and president of IMAX Entertainment, argued that the film's ad campaign trumpeted the brand.

Also from TheWrap: IMAX Q3 Earnings Drop on Weak Box Office

"The IMAX presence in the advertising seemed to be even more present than it has in the past," he noted.

That sales pitch worked and on opening weekend the movie generated $11.2 million, or more than 20 percent of the movie's domestic total, from IMAX locations.

In the case of those lordly New York grosses, it also helps that the IMAX at Lincoln Center is one of the only "true" IMAX screens in the five boroughs. Many IMAX theaters throughout the city are only slightly bigger than regular screens and lack the standard 52 feet by 72 feet dimensions that characterize the real McCoy.

Casting an eye towards China, the IMAX chieftans noted that "Gravity" is currently scheduled to open within a day of "The Hunger Games: Catching Fire," potentially pitting the two films in a blockbuster death match. A similar situation occurred last year with "The Amazing Spider-Man" and "The Dark Knight Rises," which studio executives privately groused cost them millions of dollars at the box office.

"Obviously, you'd rather they not open on top of each other, but there are ways to minimize the fall out from that," Gelfond assured analysts.

In particular, he noted that unlike in the United States, IMAX has the capacity to screen more than one film at a time. Given that "Gravity" has a relatively slender running time of 91 minutes, he postulated that the company could squeeze in additional showings to help off-set the screen crunch.

Moreover, he noted that since China is the second largest market for films, scoring a release in the country is better than having censors reject an application for films like "Gravity" or "The Hunger Games" sequel.

"We look at the glass as way more half-full," Gelfond said.

Related stories from TheWrap:

6 Reasons Actresses Over 40 Are Hotter Than Ever in Hollywood
'Gravity' Crossing $300 Million Worldwide: Russia, Germany and Australia Lead Overseas
'Gravity,' 'Hunger Games: Catching Fire' China Face-Off: Who Wins, Who Loses?