HK film fest features John Woo-style cop thriller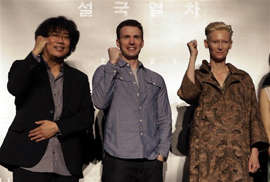 HONG KONG (AP) — The lineup at the Hong Kong film festival will be bookended by an action movie inspired by director John Woo's works and a South Korean sci-fi action thriller featuring Hollywood stars Tilda Swinton and Chris Evans.

The 10th annual Hong Kong Asia Film Festival opens later this month with the world premiere of Benny Chan's "The White Storm," a classic cop thriller reminiscent of the days of John Woo's "A Better Tomorrow" and which stars three of Hong Kong's most prolific actors — Sean Lau, Louis Koo and Nick Cheung.

The festival said Friday it will close with director Bong Joon-ho's "Snowpiercer," a South-Korean sci-fi action thriller starring Swinton and Evans.

Chan said he was honored that his film was chosen to open the festival, calling cop-themed crime thrillers unique to Hong Kong cinema.

Other notable films chosen include Tsai Ming-liang's "Stray Dogs," singer/actor Juno Mak's directorial debut "Rigor Mortis," and "Bends," directed by first-time director Flora Lau.

The Hong Kong Asia Film Festival runs from Oct. 25-Nov. 19.