Indigo Girls' Emily Saliers reveals she got married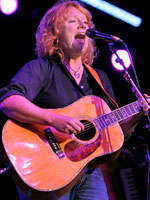 WENN

Indigo Girls singer Emily Saliers has married her girlfriend Tristin Chipman.

The "Closer to Fine" and "Galileo" songwriter announced the news during a concert in Vancouver, Canada, on Saturday, revealing the happy couple recently tied the knot in New York.

She said, "I got married. My partner's my wife, she's Canadian. She's from, well, she was born in Calgary but she spent most of her adult life in Toronto ...

"I got married in New York because we would've got married in Canada if it counted in the U.S. but you all know what I mean. We got married in New York so that she could get her green card so we could be free. We waited such a long time."

Saliers and Chipman have been together for over a decade and are parents to a nine-month-old daughter.