Jessica Simpson joins NBC's 'Fashion Star'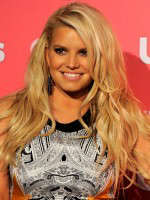 Jessica Simpson Joins NBC's 'Fashion Star'
The singer and fashion mogul is bringing her brand expertise to reality TV
LOS ANGELES (AP) -- Jessica Simpson is taking on the role of mentor to aspiring designers for a new NBC reality series.

Bing:Is Jessica Simpson done with music?

The network said Monday that Simpson will help guide contestants in the series "Fashion Star" as they compete for a multimillion-dollar contract to launch their own brand.

Elle Macpherson will host the series, which NBC promises to be a "true spectacle" taped in front of a studio audience and featuring music, dancers and models along with weekly challenges for the contestants.

The 30-year-old Simpson is a fashion mogul as well as singer and actress, with a line that carries her name and includes nearly two-dozen products.

More:Reality TV news

One of the producers of "Fashion Star" is former NBC executive Ben Silverman. The show's debut date was not announced.