Justin Bieber to make magic on tour with David Blaine's help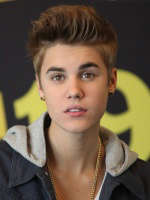 WENN

Justin Bieber is adding some magic to his upcoming tour after hiring illusionist David Blaine to work on his tour.

Bing:Beyoncé and Jay-Z raise money for Obama

The pop star is set to kick off a massive world tour later this month, and he has been busy in rehearsals ahead of the first show in Glendale, Ariz., on September 29. Bieber has now revealed he is getting some extra help from magician Blaine, who has been working on the teen singer's stage act.

More:Christina Aguilera reveals cover of new single

He tells Britain's Metro newspaper, "I'm looking forward to my tour, it's going to be really crazy. We have David Blaine working on it. My choreographer is inventive and really creative. It's cool I get to work with these people. I've been in the dance studio literally every day getting ready."