Kanye West halts gig to confront laser-pointing fan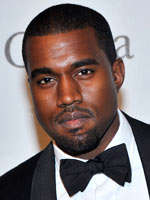 WENN

Rapper Kanye West halted a concert in Paris over the weekend to chastize a fan for shining a laser pointer at him during the show.

The "All of the Lights" hit-maker and his Watch the Throne collaborator Jay-Z were onstage when West stopped the set and confronted the concertgoer. After silencing the music, he told the audience, "You see this guy right here with the green laser? Don't f--- up everybody's show. It's not a f---ing game."

Bing:Jay-Z and Kanye West's 'Watch the Throne'

But the fan refused to heed West's words of warning, and the hip-hop star stopped the show again seconds later and threatened to have the man removed from the arena if he didn't quit.

An angry West shouted, "You're gonna get f---ed up and kicked out, and all that s---. Chill the f--- out."