Katie Couric takes stage as Jimmy Buffett backup singer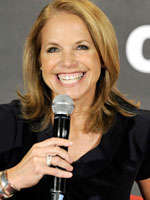 NOBLESVILLE, Ind. (AP) -- Katie Couric is no brown-eyed girl, but she can hold her own singing backup for Jimmy Buffett.

The ABC newswoman and TV personality joined Buffett onstage for several songs Tuesday during a concert in Noblesville, Ind., about 20 miles northeast of Indianapolis.

Couric told WRTV-TV in Indianapolis that she thought it would be a fun, visual "little fling."

Buffett, who covered and often performs the Van Morrison classic "Brown-Eyed Girl" at his shows, says Couric can sing and thinks her performance "could be a career-starting move" for her.

Couric has other plans. She'll launch a new daytime talk show titled "Katie" on Sept. 10.