Kim Kardashian goes topless in Kanye's 'Bound 2' video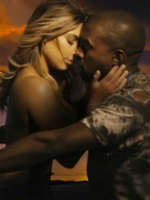 Entertainment Tonight

Kanye West shows some love for his fiancée Kim Kardashian in the music video for his new single "Bound 2," in which the reality star appears almost completely naked on a motorcycle.

Bing: 'SNL' spoofs Kim and Kanye

Ellen DeGeneres tweeted a link to the new video before Kanye's highly anticipated appearance on her show on Tuesday.

Considering the extremely personal lyrics, not surprisingly the whole video reads as an ode to Kim, who hugs him tenderly and appears in close-ups throughout the video.

But is this an overshare, or another Kanye masterpiece? Watch the video to see the two share some pretty intimate moments.