Kristen Stewart beat out Jennifer Lawrence for new role?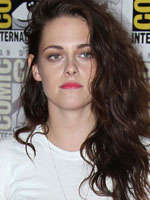 By Brent Lang
TheWrap

Her relationship with Robert Pattinson may be on the rocks, but Kristen Stewart's career is sailing along just fine, thank you.

The "Twilight" actress is attached to star in the film adaptation of William Styron's classic slice of Southern gothic, "Lie Down in Darkness," Stewart's publicist told TheWrap. Scott Cooper, who directed Jeff Bridges to an Oscar in 2009's "Crazy Heart," will slide behind the camera on the indie film.

Find:'Twilight' movie producers react to cheating scandal

Vulture, which broke the story, reports that Stewart beat out Jennifer Lawrence ("The Hunger Games") for the splashy role.

There's no start date for the film, so it's not clear when "Lie Down in Darkness" will hit theaters.

Styron's novel centers on a dysfunctional and deeply unhappy Virginia family. If the film goes forward, Stewart will play Peyton Loftis, a suicidal woman who grows increasingly alienated from her emotionally repressive parents and loveless marriage.

Tell us on Facebook:Who would you rather watch: Kristen or Jennifer Lawrence?

Despite the fallout that greeted the paparazzi shots of Stewart necking with Rupert Sanders, the married director of "Snow White and the Huntsman," publicists told TheWrap last week that the actress's career may even get a jolt from the scandal.

"Twenty years ago or 30 years ago, controversy was a career killer," Howard Bragman, the veteran industry publicist and vice chairman of Reputation.com, told TheWrap. "Now it can be career Viagra. We kind of embrace controversy."

For the time being, Stewart's schedule is packed. In addition to gearing up for the November release of the final "Twilight" film, "Breaking Dawn -- Part 2," she is set to star in the action comedy "Cali" for Nick Cassavetes.

She's also attached to a "Snow White" sequel, although it's not clear when cameras will roll on the fantasy follow-up and if Sanders will be the one manning them.