Lionsgate pursuing 'Hunger Games' theme park opportunities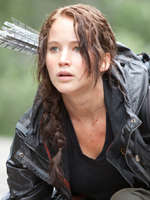 By Brent Lang
TheWrap

Fans may soon be able to play "The Hunger Games."

Lionsgate, the studio behind the dystopian franchise, told analysts on Friday that it has been approached in two different territories about potential theme park opportunities. Presumably, unlike the gladiator games at the center of the blockbuster films, any park attractions would not involve fights to the death.

Bing: Jennifer Lawrence gets a new 'do

"We're excited about those opportunities and we're pursuing them," Lionsgate CEO Jon Feltheimer said on a conference call shortly after the company reported its quarterly earnings.

Lionsgate said it has been opportunistic in its efforts to bolster merchandising surrounding the film series, signing deals with Subway to promote the release this month of "The Hunger Games: Catching Fire" and partnering with online fashion retailer Net-a-Porter on a new line of ready-to-wear pieces inspired by the movie called "Capitol Couture."

Getting into the theme park business could dwarf those moves. "The Wizarding World of Harry Potter," a theme park attraction based on the boy wizard's adventures, has been a huge revenue generator for Comcast since it opened in the company's Universal Studios Orlando resort in 2010. Two other Harry Potter attractions are currently being constructed in Universal's Tokyo and Hollywood parks.

"The Hunger Games: Catching Fire" hits U.S. theaters on Nov. 22, 2013.

Related stories from TheWrap:

Orson Scott Card Won't Make Squat From 'Ender's Game' Box Office - Boycott the Book Instead (Exclusive)
'Ender's Game' Could Win Box-Office Battle but Lose the Franchise-Launch War
Crazy-Crowded Christmas at Box Office: Will Hollywood Ever Learn?