Netflix to show final season of 'Clone Wars'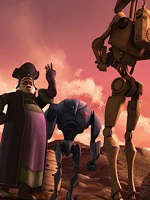 SAN FRANCISCO (AP) -- Netflix's Internet video service is coming to the rescue of "Star Wars" fans left in limbo by the abrupt cancellation of "The Clone Wars," an animated television series that embellishes the lore of the Jedi Order and Sith Lords.

The sixth and final season of "Star Wars: The Clone Wars" will be shown exclusively to Netflix subscribers in the U.S. and Canada beginning March 7 as part of a licensing deal announced Thursday.

The resurrection of "The Clone Wars" will finish the story that was still unresolved when Time Warner Inc.'s Cartoon Network cancelled the series following the fifth season.

Besides showing all 13 episodes of the sixth season, Netflix Inc.'s video-streaming service gained the exclusive rights to the director's cut of previous seasons in "The Clone Wars."