Nicki Minaj raps: 'I'm voting for Mitt Romney'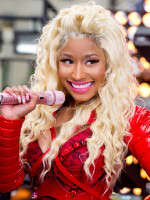 Billboard

Is Nicki Minaj voting for Mitt Romney? The rapper-singer, who is nearing a deal to become a judge on FOX's "American Idol," gives what appears to be an endorsement of the Republican presidential nominee on Lil Wayne's "Dedication 4," the recently released fourth installment in his mixtape series.

Bing: Which musicians played at the RNC?

During "Mercy," the fifth track on the album, Minaj raps: "I'm a Republican voting for Mitt Romney, you lazy bitches is f---ing up the economy."

Minaj doesn't follow up her "endorsement" with any other political thoughts, instead rhyming "economy" with "zombie."

Rap Dose, which first pointed out the lyrics, noted that her rap was performed over Kanye West-produced beats; West attended the 2008 Democratic National Convention in Denver in support of President Obama.

Minaj has previously vented to Obama over Twitter, including messages expressing her frustration with U.S. healthcare in June, on the heels of "Moesha" and "The Parkers" actress Yvette Wilson's death from cervical cancer. Before her death, Wilson's friends and family had been trying to raise money online to cover her medical costs.

More:Pearl Jam closes two-day Made in America festival

"What's sad is that when Yvette was bringing home the bacon, the gov't was probably taking millions. On her deathbed though, #Nowheretobefound," she wrote. "That should be a God given right! Even with Obama Care, too much involved. Just give FREE health care to all. @BarackObama what can we do?"

She added: "@BarackObama I wouldn't mind the millions they took if it was going to healthcare. Why should a poor person struggle to pay for MEDS sir?"