OWN acquires 'Rachael Ray,' 'The Nate Berkus Show'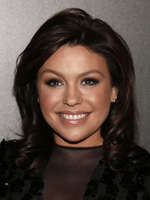 By Alexander C. Kaufman
TheWrap

OWN, the Oprah Winfrey Network, has acquired cable rights to "Rachael Ray" from CBS Television Distribution and "The Nate Berkus Show" from Harpo Studios, the cable network announced Tuesday.

Two episodes of each show will air back-to-back beginning Sept. 10 with "Rachael Ray" from 9-11 a.m. and "Nate Berkus" from 11 a.m.-1 p.m.

Bing:Is OWN struggling?

OWN will also air reruns from the first five seasons of "Rachael Ray" and the first two series of "Nate Berkus."

"Rachael and Nate are a natural fit for OWN's expanding daytime programming lineup," Erik Logan, the network's president, said in a statement. "It will be great to have Rachael's energy and Nate's upbeat presence on our air."

Also from TheWrap: Oprah Network Likely to Lose $142.9M This Year, SNL Kagan Says

Both television personalities got their start with Oprah.

Ray, a New York native, signed a deal in 2005 with Winfrey to host a day-time cooking show, fueling buzz of the launch with appearances on the Oprah Winfrey show.

Berkus started as host of the short-lived reality show "Oprah's Big Give."