Paul McCartney weighs in on Miley Cyrus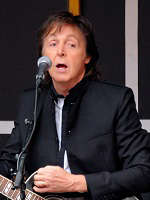 WENN

Sir Paul McCartney weighed in on the criticism directed at Miley Cyrus over her raunchy routines, saying: "We've seen worse than that."

Bing: Paul McCartney responds to fan mail 50 years later

The Beatles icon made a special effort to check out the former "Hannah Montana" star's controversial performance with Robin Thicke at the MTV Video Music Awards in August.

Photos: Miley's many transformations

He told Sky News, "You know what, I don't think it was explicit at all. You couldn't see anything! I watched it just as an experiment, to check. But obviously you look at it and you go, 'What's everyone shouting about?' ... I know she is dancing with Robin Thicke at the awards -- so what? Come on! We've seen worse than that."