Pearl Jam to soundtrack the World Series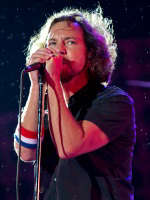 WENN

Baseball fan Eddie Vedder has landed a dream gig -- his band Pearl Jam's music has been picked as the soundtrack for the upcoming World Series.

The rockers have agreed to give executives at the Fox Sports TV network extensive use of 48 of their songs for promotional use leading up to the finals coverage and during the seven-game showdown, which is scheduled to begin on October 23.

Also: Eddie Vedder on Pearl Jam's new album and hate-watching the VMAs

Unfortunately, Vedder's beloved Chicago Cubs won't be part of the game -- the team didn't make it to the play-offs. The musical deal includes all 12 tracks from Pearl Jam's new album "Lightning Bolt," which is released next week, and hits like "Better Man," "Daughter" and "Even Flow."

The band's manager Kelly Curtis tells Billboard, "There was a period of time when we didn't license much music, but for the past many years, we consider licensing requests using the same criteria we do for everything else: Do we like it? Would the fans like it? Does it provide a different forum for fans to hear the music? Is it something we can get behind? The band loves baseball, so this one was a no-brainer."

The Los Angeles Dodgers, St. Louis Cardinals, Detroit Tigers and Boston Red Sox are currently in the running for the World Series.