Piers Morgan post-Emmys: 'It's over for Jon Stewart'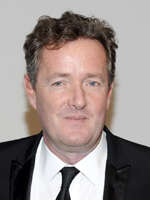 By Sara Morrison
TheWrap

Piers Morgan took to Twitter again to dig at Jon Stewart after his "Daily Show" lost a pair of Emmys to "The Colbert Report."

"CNN BREAKING NEWS," Morgan tweeted. "It's over for Jon Stewart.... @StephenAtHome wins again."

"The Colbert Report" won the Outstanding Writing for a Variety Series and Outstanding Variety Series awards on Sunday night — the latter breaking a 10-year winning streak for "The Daily Show." Morgan saw it as another chance to lash out at Stewart from a distance.

Stewart was fiercely critical of CNN's breaking news coverage during last Monday's Washington Navy Yard shooting, calling it a "Force 5 Wrongnado" of incorrect and poorly sourced information. Morgan defended his network by tweeting that Stewart should "stop obsessing with CNN and start worrying about the younger, funnier @iamjohnoliver getting his job." John Oliver filled in for Stewart over the summer while he was directing a film.

Also from TheWrap: Piers Morgan Hits Back at Jon Stewart: Start Worrying About Keeping Your Job

Incidentally, as the executive producer of Colbert, Stewart shares in Colbert's victory, so, technically, his winning streak remains intact.

Morgan has never won an Emmy, nor been nominated. CNN won two Emmys this year, both for "Anthony Bourdain: Parts Unknown."