Pope Francis biography expected next year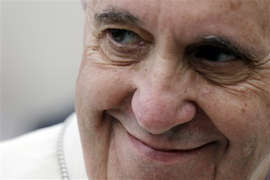 NEW YORK (AP) — A leading Roman Catholic commentator and founder of a pro-Catholic media organization has landed a deal to write a "full-scale" biography of Pope Francis.

Publisher Henry Holt announced Wednesday that it has acquired a book by Austen Ivereigh, a British journalist who helped found Catholic Voices, which seeks to improve how the church is presented in the news. Ivereigh also is a former press secretary for the Archbishop of Westminster.

The book, currently untitled, is expected next year.

According to the publisher, Ivereigh's biography will show that the Pope has pressed the "reset button" for the church. Pope Francis has made international news by saying the church should not spend too much time focusing on gay marriage and abortion and should concern itself more with the poor.