Public memorial held for Michael Clarke Duncan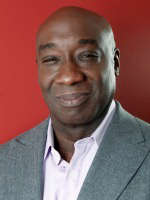 WENN

Mourners gathered in Los Angeles on Sunday to pay their respects to late actor Michael Clarke Duncan at a public memorial. The four-hour, closed-casket celebration of his life was held at the Hall of Liberty in Hollywood Hills' Forest Lawn Park cemetery.

Bing:More on Michael Clarke Duncan

The service featured a slide show, touching speeches from friends and a screening of the 1999 film "The Green Mile," which earned Duncan an Oscar nomination. The 54-year-old died on September 3 from complications of a heart attack he suffered at his L.A. home in July.

More:Tom Hanks reacts to Michael Clarke Duncan's death

A private memorial for Duncan is expected to draw a crowd of Hollywood A-listers to Forest Lawn on Monday.