Ricky Gervais isn't attending Golden Globes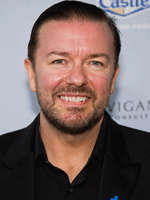 WENN

Ricky Gervais will be absent from the audience when Tina Fey and Amy Poehler take over his Golden Globe hosting gig because he is busy filming with the Muppets.

"The Office" star has hosted the glitzy awards show for the past three years and sparked outrage among famous guests with his acerbic put-downs, famously mocking the likes of Johnny Depp, Angelina Jolie and Mel Gibson.

Former "Saturday Night Live" co-stars Fey and Poehler are taking over the job to oversee proceedings at the 70th annual prizegiving in Los Angeles on Jan. 13, but they won't be able to take revenge on the Brit as he will be absent from the audience.

Gervais will miss the ceremony because he is scheduled to start shooting the latest installment of "The Muppets" movie franchise. He tells Access Hollywood, "I've got to fly back (to New York). I start filming the new Muppet movie next week. I enjoyed the last three Golden Globes immensely. To be the most feared man in Hollywood for three hours was such fun."