Rumer's Dark Journey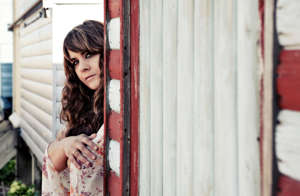 The U.K. singer-songwriter digs into the dark side of classic '70s songs from American troubadours

By Melinda Newman
Special to MSN Music
Rumer (©Alex Lake)

As Rumer delved deeper and deeper into recording "Boys Don't Cry," her Sept. 4 collection of '70s tunes penned by such classic male songwriters as Neil Young, Townes Van Zandt and Jimmy Webb, she discovered herself living more and more in a man's world.

"I found myself drinking when I would never drink. I found myself feeling very disconnected about love," the 33-year-old British singer-songwriter says. "I found myself in a very strange kind of male space where I'd be coming home from tour and everything was a mess. There was no food in the fridge, nothing was clean, and I'm thinking, 'A man in my situation would have a wife to do all this stuff.'"

It's not the first time Rumer, whose warm, full vocals recall Karen Carpenter or Laura Nyro, has become so wrapped up in her music. On her debut album, "Seasons of My Soul," which was certified platinum in the U.K., many of the songs deal with her astounding personal story. When she was 11, her mother revealed to Rumer that her biological father was not the same father as her six older siblings, but was their family cook in Pakistan, where Rumer lived the first decade of her life.

Several years later, long after her family had moved to England, her dying mother asked Rumer to return to Pakistan and find her natural father. After an exhaustive search, she tracked him down, only to discover he had died a few months prior. Rumer, who has been very open about her childhood travails, and a subsequent nervous breakdown and recovery, spoke candidly to MSN Music about her dark trek into the male psyche.

MSN Music: "Boys Don't Cry" features songs from the 1970s by male singer-songwriters. Why keep the focus so narrow?

Rumer: I wanted it to be an easy listen, so they needed to be from the same era. I don't want to go from the ''60s to the '70s to the '80s to the '40s ... I wanted to go deep, take you to a particular place with my very specific exploration.

You tried to cut Randy Newman's "Marie," but it didn't work for you. Was there other material you tried but it didn't translate?

Lowell George's "20 Million Things." It broke my heart not to do Lowell George. ... I could go into the male psyche up to Randy Newman and then Randy Newman was like a stop sign, like "Women may not enter."

What do you mean?

I was like, "This character [in '"Marie"'] is an asshole ... I don't get it. This guy's really shallow. ... He remembers her like a princess and he's drunk and he's saying, 'When you're in trouble, I turn away.' What kind of bull**** is that?" I found it so difficult to relate to this character, and it was quite interesting because that was the point where I couldn't go any further. ... That's where I found the boundary between men and women.

Bing:More on Rumer

Any plans to do a companion album from female singer-songwriters from the '70s?

Not really, because they do it so beautifully themselves. I wanted to bring tenderness to [songs like] "A Man Needs a Maid." I wanted to help people understand more what Neil Young might have been feeling by going there with a sympathetic female vocal to try to expand that feeling of isolation, desperation and complete loneliness and make it warmer so people can enter. I think [when] Neil Young sings that, it can be sometimes too dark for people to enter or understand.

You have a photo of Frederick Douglass, the famous abolitionist, up on your wall. How did he inspire you?

I actually have a song about him on my next album. Even though people assume because I can speak properly and because I seem well-educated, that I've had opportunities in life. I haven't. I've been on my own since I was 17. I've been going from place to place. I never had any money, I was like that guy in "The Pursuit of Happyness." I built up from nothing. When I look at Frederick Douglass, I think of somebody who's not a victim. This is a man who thought, "I'm not going to be a slave, I'm going to learn to read, I'm going to educate myself. By hook or by crook, I'm going to find my way out of here. I'm going to find my freedom and, not only that, I'm going to help other people." Whenever I feel like a victim, like "Oh, poor me, I didn't have my parents do this" or "I had no help, & life's really hard, I can't do this. My problems are too big," I just look at Frederick Douglass and go, "No, if he can do it, I can do it."

Do you have any regrets about being so public with your story

Well, no. Sometimes I think shouldn't I have spoken so much about having a nervous breakdown, but I know where I'm going creatively. I know where I'm going through transformation. I know this next album is going to be full of hope. If you know by reading an interview where I felt overjoyed to see a fly when I was onstage because I was so lonely and I broke down in tears because I was overjoyed to see a fly, and I come through this and I can make this beautiful [next] album that's going to be joyful, compassionate, and full of hope, then it will be more profound.

Melinda Newman is the former West Coast bureau chief for Billboard magazine. She has covered music and entertainment for the Los Angeles Times, The Washington Post, The Associated Press, MSN, AOL Music, Hitfix.com, Variety, People Country and other outlets. Recent interviews include Taylor Swift, Susan Sarandon, Pink, Jeff Bridges, Brad Paisley, Foo Fighters, Katy Perry and Carly Simon.

Keep up with MSN Music. Like us on Facebook and follow us on Twitter.