Russian punk accuses jail bosses of illegal isolation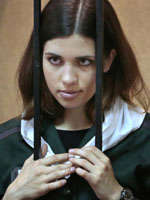 WENN

Jailed Pussy Riot star Nadezhda Tolokonnikova has accused Russian authorities of imposing an "information blockade" on her since she declared a hunger strike last month.

The rocker began the drastic action to protest against her treatment while serving time behind bars, but she was forced to end the strike earlier this month due to medical complications.

It has now emerged Tolokonnikova has accused Russian authorities of keeping her in illegal isolation after not being allowed to see relatives or her lawyer for two weeks following the hunger strike.

She claims no medical grounds were issued for her to be denied access to visitors, suggesting isolation was a political decision.

The punk rocker, who was given access to her lawyer for the first time in two weeks on Thursday, writes in a statement, "If you think that without contact with my friends I will become amenable and open to compromise, and go back on the views I have formed about Mordovia's camps during my time in jail, then you are horribly mistaken."

Tolokonnikova and two Pussy Riot bandmates -- Maria Alekhina and Yekaterina Samutsevich -- were imprisoned for two years last year over a controversial protest at a church in Moscow against Russian President Vladimir Putin.

Samutsevich was freed in October, 2012, when her sentence was commuted, and Tolokonnikova and Alekhina are set to be released in March.