Spanish pop sensation Sanz awarded Berklee honor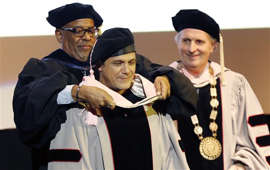 BOSTON (AP) — Spanish pop sensation Alejandro Sanz stepped into a music school for the first time Wednesday and received an honorary doctorate degree from one of the world's foremost institutions devoted to his craft.

Sanz accepted the honor from Berklee College of Music in Boston before more than 1,200 people who had packed the school's performance center for the sold-out event.

"Today is a day that I will never forget, like the day my father gave me my first guitar," Sanz told the audience in Spanish, with his remarks translated into English on a screen. "You grant me an honor that I honestly have a hard time think(ing) I deserve, because I still see myself as that child sitting next to my father trying to imitate his chords, with fingers that sometimes were too small to reach the right fingerings."

Dressed in a traditional cap and gown, he gave an emotional speech dedicating the degree to his parents, wife and children and the music field. He urged the Berklee students to never give up on their art.

"There will always be a chord beyond your tiredness and frustration," said Sanz.

The flamenco-inspired Madrid artist has sold more than 23 million albums worldwide and received numerous Latin Grammy and Grammy awards.

A group of 40 students performed a concert of his music as an homage, and Sanz joined them for several songs leading to the finale.

Sanz said that when he first heard he would receive the honor, he was delighted but thought someone wasn't thinking straight.

"I was very happy but I thought they were crazy," Sanz said. "But I wanted to learn about the school. It's my first time inside a music school, and I was very happy to get to know the students."

The school reserves the honor for artists who have the overwhelming respect of their peers. He joins the ranks of Duke Ellington, Steven Tyler, Melissa Etheridge and other music superstars.