Stephen Colbert's children's book tops the NY Times best-seller list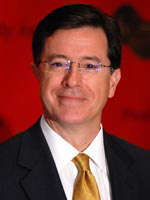 By Kimberly Potts
TheWrap

Stephen Colbert's "character" has done it again. The "Colbert Report" host's latest book -- the children's book spoof titled "I Am a Pole (And So Can You!)" -- tops the Hardcover Advice & Miscellaneous section of this week's New York Times best-seller list.

Bing:Ellen DeGeneres to receive Mark Twain Prize for humor

The book, which Colbert introduced during an interview with "Where the Wild Things Are" author Maurice Sendak in January, began as a gag for the interview, with Colbert deliberately playing on Sendak's noted distaste for celebrities writing children's books.

But as Colbert described his idea for the story -- accompanied by a crude mock-up -- of a pole searching for its true purpose in life, Sendak surprised him by laughing and saying, "The sad thing is, I like it."

"I knew when he laughed throughout and said he liked it, it could be a real thing," Colbert, whose previous best-seller was the adult-aimed "I Am America (And So Can You!)," told Publisher's Weekly.

Also from TheWrap:Stephen Colbert Exposed: Al Gore Says He's a 'Character' (Video)

Sendak's quote is on the cover of "I Am a Pole," along with a foil circle that suggests the book is "Caldecott Eligible," a reference to the Caldecott Medal, the annual award for the best children's picture books.

As for the book's appropriateness for children's picture book audiences: It isn't. Among the pole's self-discovery adventures is a pit stop as a stripper pole, while most of the jokes are too -- sophisticated may not be quite the right word -- for the picture book crowd.

More:Slow start for Howard Stern on 'AGT'

"I wished I was the North Pole, and marked the home of Santa, or even just a Gallup poll, calling voters in Atlanta," Colbert writes in the book, while the tome also touts (fictional) sequels, including "Pole Eats His Vegetables," "Pole Meets Another Pole" and "Pole Meets the Other Pole's New Boyfriend."

"For people it seems easy to find a role that suits you most, like a job of true importance, such as late night TV host," Colbert cheekily writes in the book, which we're predicting will join the Dr. Seuss classic "Oh, the Places You'll Go!" as a new go-to graduation gift book.