Steve Harvey enters the talk-show world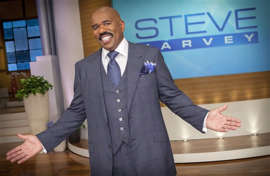 NEW YORK (AP) — Steve Harvey played hard-to-get before deciding to become a daytime television talk-show host.

The veteran comic, whose new show gets a jump on the fall season Tuesday, was first approached about a show three years ago when his first book, "Act Like a Lady, Think Like a Man," was on the best-seller lists. The television production company Endemol thought the idea of Harvey giving women advice from a man's point of view made a perfect theme.

Harvey said no, thanks.

One of the original "Kings of Comedy" thought late-night was a better place for him on TV. Daytime is more sedate. He had a thriving stand-up career he wasn't ready to give up and a popular morning radio show broadcast across the country. Harvey also thought his suitors were trying to limit him.

"They just wanted to make a relationship show and I didn't think that was rich enough," Harvey said. "I don't think you can do five years, five days a week just talking about who likes who."

Harvey instead signed on as host of the game show "Family Feud." His success there made producers want him more, said David Goldberg, chairman and CEO of Endemol North America.

Goldberg tried again, and this time sealed the deal. "Steve Harvey" is Endemol's first-ever talk show in the U.S., and it is competing in a tough market with new talk shows also starting this fall starring Katie Couric, Ricki Lake and Jeff Probst. A partnership with NBC's top stations, where Harvey's show will air back-to-back with Ellen DeGeneres, gives him a fighting chance.

Harvey now feels more comfortable with the idea of trying daytime. He should: There are few surer routes to riches in the television business than a successful syndicated show.

He said he also feels more comfortable asserting himself in molding the show's direction.

"Look, I was leery about being able to maintain who I am," he said. "Not so much the edginess, but I really wanted to be frank on TV. I really wanted to say what I say. I'm happy if you're a guest on my show, but if you sit over there and say something that I don't think is cool for me or my listeners, I've got to reserve the right to say so. Just because you've got this book doesn't mean you're right about everything."

Harvey said he has pushed show producers to go beyond the theme of his book in exploring ideas. One that he's borrowed from his radio show is about forgiveness, asking people carrying a longtime grudge to unburden themselves.

Overprotective parents, adult children who have moved back in with their parents and people who share too much information about their children online are among the topics addressed on "Steve Harvey" during the show's first week.

Harvey, a father of seven, can draw on plenty of experiences.

"I've been unemployed, homeless, had a lot of jobs, been dirt-poor and out of it and been pretty successful," he said. "Married a few times, bad credit, good credit, tax troubles, no tax troubles. I've just about been through it all. Never been a drug user, but other than that, I've had a pretty nice slice of life."

He wrote his book on the advice of his daughters, who would be mortified when Harvey would give the third-degree to their dates but have come to learn — even if it took some time — that dad's assessments were spot on.

The young don't have it figured out yet, but life repeats itself, he said.

"You can text a girl, you can Skype a girl, you can Facebook a girl, but guess what?" he said. "You're going to eventually have to take her to dinner. You're going to have to look across the table and you're going to have to know what to say. That's really what it comes down to, and that never changes."

Harvey, 55, is a comedian, but as a talk-show host is not trapped in that persona, Goldberg said. The show "really is aimed to entertain, for people to have fun and for people to always come away with something," he said.

Harvey faces a crowded marketplace, but will be helped by the pairing with DeGeneres and an aggressive promotional campaign that included advertisements during the Olympics, said Bill Carroll, an expert in the syndication market for Katz Media. The persona he's helped create through his books should also benefit Harvey. "You have to have some other reason to spend time other than 'he's a likable guy,'" he said.

Carroll wasn't particularly concerned with Endemol's rookie status in the genre. It's a worldwide company with plenty of successes in the U.S., including "Extreme Makeover: Home Edition," ''Wipeout" and "Big Brother."

"I liked Dave Goldberg immediately," Harvey said. "I knew they had never done a talk show before, but they know how to win."

The show will be recorded in Chicago in the same building where Harvey will broadcast his radio show starting at 5 a.m. local time. When that's done, he'll work out, take a meeting and prep to record one or two talk shows. Harvey will keep doing "Family Feud," which records in Atlanta during two intense months of work in the spring.

He officially retired from live stand-up shows after an Aug. 2 performance in Las Vegas. It was, Harvey said, the hardest career decision he's ever made.

"How do you give up something that has defined you for 27 years?" he asked. "And you've been successful at it. I can go and sell out an arena in any major city in this country and earn a living. I'm going to stop doing that and take a shot at doing a TV show?"

Yet he figures he's accomplished all he can in the stand-up realm, and it's hard to keep it going with all the travel. "I had to let something go to fit something else in," he said.