TLC's former manager angry over TV biopic portrayal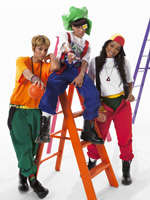 WENN

TLC's former manager Perri 'Pebbles' Reid has slammed the group and TV network VH1 over the way she was portrayed in a recent biopic.

"CrazySexyCool: The TLC Story" aired last week and told the story of how the trio became one of the world's biggest girl groups. The TV movie drew an audience of 4.5 million, making it the most watched original movie in VH1's history, but Reid was left reeling. The movie portrays the singer-turned-manager as money-grabbing and manipulative, and now Reid has set her lawyers on the channel in an effort to have certain lines retracted.

A statement from the 46-year-old reads, "First, I want to thank all of you for the well wishes and prayers. I apologize for the delay in responding to the movie, but I wanted to gather my thoughts. I have always been a private person, and this unprovoked attack has been extremely upsetting to me and my family. I have needed time to spend with my family and for personal reflection. The movie contains many false and defamatory statements and scenes about me. Please know that I have never cheated or mislead anyone. I will defend my reputation, accomplishments, and character. My attorney is in the process of demanding a retraction of the false and defamatory statements and scenes about me from VH1."