Tom Petty thrilled song was showcased at Democratic National Convention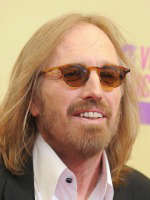 WENN

Tom Petty was delighted to hear his rock anthem "I Won't Back Down" played at the Democratic National Convention on Wednesday, saying the moment gave him "chills."

Bing:Which celebs attended the DNC?

The singer/songwriter's 1989 track was blasted as President Barack Obama stepped onstage at the Charlotte, North Carolina event, and Petty is pleased to have been involved.

More:Did Eastwood's RNC act cause trouble for his next film?

He tells Rolling Stone, "I've been on the wrong side where I've had to tell some candidates to stop using my music. They (organizers) knew it would be OK. I've had a chance to meet the President and talk to him about the music he listens to." Petty admits he'll never forget the moment Obama appeared as the song played, adding, "I got chills."