Trucks, Haynes leaving Allman Brothers Band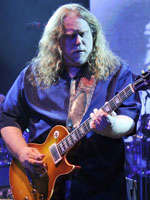 LOS ANGELES (AP) — Warren Haynes and Derek Trucks are leaving the Allman Brothers Band at the end of the year.

A statement released by the band's spokeswomen Wednesday says the guitarists are leaving the rock band to spend more time with their families and work on other musical projects.

Haynes joined the group in 1989, while Trucks became a member in 1999.

The Allman Brothers Band is set to perform Friday in a tribute to Gregg Allman at the Fox Theatre in Atlanta, Ga. The band is also scheduled to celebrate the group's 45th anniversary in March with 10 shows at the Beacon Theatre in New York.