Villella leaves Miami ballet sooner than expected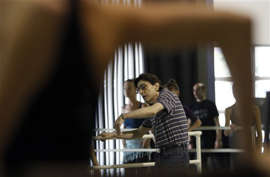 MIAMI (AP) — Edward Villella, the artistic director of the Miami City Ballet, has abruptly left the company after nearly a year of financial struggles and management shake-ups that threatened to overshadow the troupe he founded and built into an internationally recognized company.

Villella, 75, said last year he would retire after the 2012-2013 season ends in April. Ballet officials announced Tuesday that Villella has decided to leave now.

The former New York City Ballet star founded the Miami Beach-based dance company in 1986.

In a statement, officials said Villella "had given the matter a great deal of thought" and decided with the company's executive board to speed the transition to new leadership.

The Cuban-born dancer Lourdes Lopez, who was set to succeed Villella as artistic director, now takes over immediately, ballet officials said.

In the statement, Villella and board president Jim Eroncig thanked each other for support and leadership. There's no mention of the angst that has shadowed Villella's departure since his retirement was announced in September 2011.

Ballet trustee Marvin Ross Friedman said Tuesday he was leaving with Villella. Instead of thanking Villella for leading the company to wild acclaim in Paris last summer, a few members of the executive board forced him to resign, Friedman said.

"He created a world-class company, a crown jewel in the pantheon of Miami's cultural assets ... yet he was fired," Friedman said in an email to ballet officials, dancers and board members.

Villella's departure was planned and a mutual decision, said Roberto Santiago, Miami City Ballet's spokesman.

Villella declined comment Tuesday. The terms of his retirement are guarded by a confidentiality agreement. But in a recent interview with The Associated Press, he expressed frustration and disappointment with his impending exit.

He remembered a comment his mentor at New York City Ballet, George Balanchine, made about wanting to "die in the harness," and he had hoped to make a final bow on his own terms.

"I'm not the retiring type," he said.

He will return to New York, where he was born, to pursue other opportunities in dance.

Villella was proud to have built a company where he would have liked to dance, despite one regret: "Just my failure to make everybody understand — and I'm talking about, not only donors and board people, the entire community, all of South Florida — this is a company that's had standing ovations in L.A., Kennedy Center, Chicago, New York City, Paris. We are known and received better outside of Florida than we are inside of Florida."

Like other arts companies, Miami City Ballet has struggled through recession and recovery. After a successful 2009 tour in New York, the company cut eight dancers to save money. The second half of the 2008-2009 season was performed to recorded music because live orchestral music was too costly. An executive director hired last fall to improve fundraising and management was out by the end of June.

Many dancers addressed the board in confusion after Villella's retirement announcement. "It was news that came sort of out of the blue to us, and it seemed to us not happy news. We were trying to get some answers," said principal dancer Jennifer Kronenberg.

Miami City Ballet has brought in Michael Kaiser, president of the Kennedy Center for the Performing Arts, as a consultant to help financially restructure the company. Kaiser performed similar tasks for the American Ballet Theater and Alvin Ailey American Dance Theater in the 1990s, though he says the Miami troupe is in better shape than those companies at that time.

Lopez, who also danced at New York City Ballet, has been the director at New York dance company Morphoses. She arrived in Miami last week to take over the company's ballet school, which had been run by Villella's wife.

Lopez, 53, attended classes and rehearsals Tuesday with the company's professional dancers, Santiago said.

In an email Tuesday to the ballet's staff and roughly 40 dancers, Villella said he was confident the company would continue to flourish.

He also wrote that he was especially pleased with the rave reviews they earned in New York and Paris. Villella has said their triumph in Paris was as dear to him as the standing ovations he received from an audience in Moscow during the Cuban Missile Crisis.

Miami never was an ideal place to build a dance company, Villella had recently told AP, in spite of its growing population and fundraising potential. He noted the company has always run a deficit.

South Florida also lacks the cultural heritage of major arts destinations such as New York, he said, along with major donors who prioritize arts funding.

"My estimation when I came here was that I was bringing New York to Miami, but Miami has its own manner and fashion, and therein lies a complication," Villella said.