Woody Allen's attorney defends filmmaker from son's Twitter remarks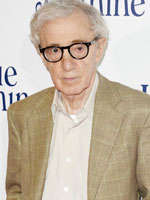 WENN

Woody Allen's lawyer has jumped to defend the filmmaker after his former partner Mia Farrow and their son Ronan attacked him on Twitter following a Golden Globes tribute on Sunday night.

Mia Farrow posted a tweet as the director was honored with the Cecil B. DeMille Award for lifetime achievement at the ceremony, suggesting she would no longer be watching, and his estranged son used social media to reignite allegations that the director sexually abused his own daughter when she was seven.

More Golden Globes: Photos highlights from the ceremony | See winners list

Ronan's remarks, which read, "Missed the Woody Allen tribute - did they put the part where a woman publicly confirmed he molested her at age 7 before or after Annie Hall?" refer to claims made by Allen's adopted daughter, Dylan, in 1992, when she accused the moviemaker of molesting her.

She repeated the allegation last year in an interview with Vanity Fair.

Defending his client, who did not attend the Golden Globes, against the latest attacks, lawyer Elkan Abramowitz says, "Years ago it was determined that the allegations concerning Woody and his daughter were false and totally improper."