Zack Snyder will not direct new 'Star Wars' movie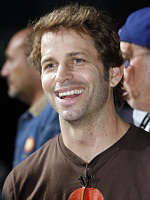 WENN

Zack Snyder's publicist has denied rumors the director is to take charge of Disney's reboot of the "Star Wars" franchise.

"Star Wars" creator George Lucas sold his production company, Lucasfilm, to bosses at the family-film giant last year, and Disney executives were reportedly keen to hire "300" director, Snyder, to oversee the first new installment in the iconic series.

Bing:Wes Anderson, Matthew Vaughan and others rumored for 'Star Wars' reboot

However, Snyder is adamant he will not be helming the movie, despite being a long-time fan. A statement from the filmmaker's representative reads, "While he is super-flattered because he is a huge fan, Zack is not involved in any way with the new 'Star Wars.' He is currently in post (post-production) on his two films, 'Man of Steel' and '300: Battle of Artemisia.'"

Guillermo del Toro has also turned down the coveted "Star Wars" job due to his hectic schedule.