Zsa Zsa Gabor's husband extended as conservator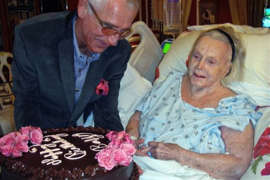 LOS ANGELES (AP) — A judge says Zsa Zsa Gabor's husband should remain the ailing actress' conservator until at least August.

Los Angeles Superior Court Judge Reva Goetz ruled Wednesday that Frederic von Anhalt must provide an accounting of Gabor's assets. An attorney appointed to oversee Gabor's interests states in a report that von Anhalt has generally done a good job caring for his wife.

The report noted he had used some of Gabor's money to pay his personal expenses, but that it had been repaid. His attorney declined to discuss the amount.

The 95-year-old actress has been in a conservatorship since July.

Her daughter Francesca Hilton has questioned whether von Anhalt was properly caring for her mother and her finances. Her attorney Kenneth Kossoff says he is seeking more details on Gabor's medical care.