Chip Gaines used 3 simple words to shut down rumors that he and Joanna are getting divorced

INSIDER
8/10/2017
The stars of HGTV's huge hit "Fixer Upper," Chip and Joanna Gaines are currently busier than ever.
In the last two years alone, the couple has opened a bustling marketplace, published a best-selling memoir, and launched four new home decoration lines.
As their lifestyle brand continues to reach new heights, however, the two have been slammed with rumors about their marriage. Just last week, on August 4, Chip took to Twitter to shut down rumors that he and Joanna are getting divorced, as reported by Country Living.
In response to a fan who  tweeted , "I'm so sick of these 'stories' claiming @joannagaines and @chippergaines breaking up," Chip replied with three strong words : "Won't ever happen ... you can take that to the bank! #loveOfMyLife."
Won't ever happen.. you can take that to the bank! #loveOfMyLife https://t.co/tK3kkT6k3e

— Chip Gaines (@chippergaines) August 5, 2017
It wasn't the first time the "Fixer Upper" stars had to address tabloid gossip this year.
Back in April, Joanna denied rumors that she was leaving HGTV to start a line of face creams. "If you're reading big, exciting news about us, and we did not confirm it on our official sites, then proceed with caution," she warned in a blog post.
Just a few months later, however, Joanna had to shut down yet another round of rumors that claimed she was leaving "Fixer Upper" to start her own skin care and makeup line. "This is a SCAM," Joanna wrote in an Instagram post. She added: "We have nothing to do with it and have been trying to stop it for some time."
The Gaines', who were married in Waco, Texas, in 2003, have stressed that their relationship, and their family, come first — no matter how successful they get. "Jo and I both made a commitment pretty early on that the two of us are the most important variable," Chip told People in June.
He continued: "Every now and then there are times when we notice we're getting off track and have to regroup. But it's like everything we care about, everything that's important to us — we know it's going to require work."
Related slideshow: Celebrity couples who have been together forever (via Photo Services)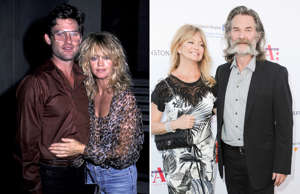 Celebrity couples who have been together forever