The best TV shows to look out for this autumn

The Telegraph
9/10/2016
As we amble towards the end of summer, and the prospect of increasingly dark evenings, solace can be taken in the TV season gearing back up. Rest assured, there are a lot of exciting new shows to look forward to – and they're not just singing competitions.
Here, we've picked the ones we're most excited to see, from a range of TV channels (online streaming included).
Victoria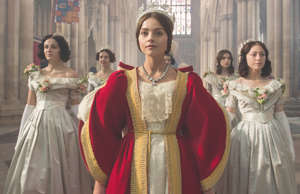 Jenna Coleman left her role on Doctor Who to star in this big-budget biopic set at the beginning of Queen Victoria's reign. Thrust onto the throne aged just 18 when her uncle, William IV, died in 1837, the five foot-tall monarch received a fast – and often frowned upon – tutorship in royal duties from the prime minister, Lord Melbourne (Rufus Sewell). Beginning the weekend before Poldark, ITV will be hoping to snatch some of the same Sunday-night audience with this historical blockbuster.
When? Sunday 28 August, 9pm, ITV
BBC classic comedy remakes
As part of the BBC's landmark comedy season, the corporation has commissioned a series of remakes of classic sitcoms – with some based on the scripts of lost episodes. Among them is Till Death Us Do Part, which will see Simon Day take the role of controversial character Alf Garnett. The remake is based on a 1967 episode titled A Woman's Place is in the Home and will be faithful to the original script – Alf's sexist rants included. Lost episodes of Steptoe and Son and Hancock's Half Hour will also be re-recorded, with Kevin McNally playing Tony Hancock. And there will be new one-off specials of Porridge, Are You Being Served?Goodnight Sweetheart and Keeping Up Appearances .

When? From Sunday 28 August, BBC One
The Night Of
Peter Moffat's tense, nightmarish drama series Criminal Justice, which first aired in 2008, has been remade by HBO and set in New York. British actor Riz Ahmed, here with an American accent, stars in the Ben Whishaw role as a young man who is accused of murder after he meets a mysterious young woman and they go on a drink and drug-fuelled night out – but he cannot remember committing the crime.
When? Thursday 1 September, Sky Atlantic
Poldark
We have some news. It seems that there will not be any exertive topless scything by dreamboat Aidan Turner in the second series of this adaptation of Winston Graham's novels. Instead, there will be even sweatier topless mining. The lusty period drama that captured millions of hearts last year is back, and this time our hero is standing trial for murder. Eleanor Tomlinson also returns as Poldark's wife Demelza, as well as his former lover Elizabeth (Heida Reed).

When? Sunday 4 September, BBC One
Cold Feet
When Cold Feet aired its last episode 13 years, more than 10 million people tuned in to watch. On screen, the characters said an emotional final farewell to Rachel (Helen Baxendale) who had been killed in a car crash. Now we return to Manchester to see what life's playing cards have dealt Adam (James Nesbitt), Pete (John Thomson), Jenny (Fay Ripley), Karen (Hermione Norris) and David (Robert Bathurst).
When? Monday 5 September, ITV
Amanda Knox
In March 2015, seven and a half years after their arrest, 27-year-old Amanda Knox and her former boyfriend Raffaele Sollecito were definitively acquitted of the murder of her roommate Meredith Kercher. It was a crime that gripped the world – and one that Knox, Sollecito and a third man, Rudy Guede, were found guilty of. This documentary explores the crime, the media circus that followed and attempts to get to know Knox herself.

When? Friday 30 September, Netflix
The Fall
This gripping, habitually disturbing crime drama is back for a third season in the autumn. Both Gillian Anderson and Jamie Dornan return as Superintendent Stella Gibson and Paul Spector, the serial killer she's hunting. Series two left us on a spectacular cliffhanger – which we won't spoil here – but for those who want to catch up on what's happened so far, the first two series are available on Amazon Prime Video.
When? September, BBC Two
National Treasure
It was inevitable that Operation Yewtree would provide the inspiration for TV and film, so shockingly wide-ranging was the sex abuse scandal. This four-part series, written by Harry Potter and the Cursed Child playwright Jack Thorne, stars Robbie Coltrane as a fictional celebrity and "national treasure" who is accused of historical rape. Julie Walters plays his wife of 40 years who once would turn a blind eye to his affairs but now must decide whether to believe his claims of innocence.
When? September, Channel 4
The Level
Karla Crome stars in this Brighton-set police drama as a detective sergeant with a secret double life. An exemplary career covers the fact that she has dealings with drug trafficker Frank Le Saux ( Philip Glenister ), who is her best friend's father. When he is murdered and his killer begins to stalk her, she has no one to turn to.
When? September, ITV
Black Mirror
This widely acclaimed, Emmy-winning series from Charlie Brooker moves to Netflix after the online streaming service outbid Channel 4 for the third season. There are no plot details relating to the six standalone episodes yet but we can be sure that, as ever, they will take a dark, satirical look at modern society. The weighty cast includes Bryce Dallas Howard, James Norton and Gugu Mbatha-Raw.

When? Friday 21 October, Netflix
Our Loved Boy
Sixteen years ago, 10-year-old Damilola Taylor was attacked by a group of teenagers on the streets of Peckham. Exact details of what happened are still not known, but Damilola collapsed in a stairwell and later bled to death. This drama, from award-winning screenwriter and playwright Levi David Addai, tells the story from the point of view of the Taylor family and their subsequent quest for justice.

When? October, BBC One
Westworld
Having successfully rebooted the Star Wars and Star Trek franchises, JJ Abrams is now the executive producer of this new series based on rather more niche sci-fi source material. This 10-part series is Jonathan Nolan and Lisa Joy's remake of Michael Crichton's 1973 film about a futuristic theme park run by robots that go haywire and start killing people. Its impressive cast includes Anthony Hopkins, Ed Harris, Thandie Newton and Evan Rachel Wood and if the series is half as good as the trailer, then Sky will have a big hit on our hands.
When? October, Sky Atlantic
The Young Pope
Jude Law may not be the first name that springs to mind to portray the pontiff but here he is, starring in Sky's dramatic imagining of the first American Pope. He plays Lenny Belardo, a conservative but conflicted cardinal who becomes Pius XIII. It's directed by the Italian Oscar-winner Paolo Sorrentino and co-stars Diane Keaton as Sister Mary.
When? Thursday 27 October, Sky Atlantic
Tutankhamun
The familiar tale of King Tut's cursed tomb is told in this four-part drama starring Max Irons and Sam Neill. The year is 1905 and Howard Carter (Irons) is leading an expedition in Egypt but, after an incident, finds his license to dig revoked. Years later he is approached by eccentric Lord Carnarvon (Neill) who is leading his own amateur excavations and is in need of help from an expert.
When? October, ITV
The Missing
The first series of this drama about the search for a missing child – starring James Nesbitt – drew a mixed reaction from audiences when it aired in 2014, with many complaining that it was too confusing and veered off at pointless tangents. It returns for a second series and a second chance, but there's a whole new case and only Tcheky Karyo resumes his role as detective Julien Baptiste. Now it's David Morrissey and Keeley Hawes who have lost a child, but this time their daughter returns.
When? October, BBC One
The Crown
Two weeks after the conclusion of Victoria on ITV, we shift to Netflix for another sumptuous drama series about a female monarch – and one that also features a Doctor Who alumnus – Matt Smith, who stars as Prince Philip. This 10-part series, created by the acclaimed Peter Morgan (The Queen), also stars Claire Foy as Queen Elizabeth II . It begins with her wedding to Philip, and charts the early years of her reign and her relationship with prime minister Winston Churchill (John Lithgow). It's the most expensive drama ever made by Netflix and is expected to last for six seasons, taking us up to the present day.
When? Friday 4 November, Netflix
Gilmore Girls: a Year in the Life

This family drama set in a fictional Connecticut town was a hit in the 2000s, as audiences on both sides of the Atlantic fell in love with the Gilmores – a single mother, Lorelei, and her teenage daughter, Rory – who navigated their way through life while eating junk food, making pop culture references and dodging Lorelei's interfering, but well-meaning, parents. It ended in 2007 after seven seasons and now is making a return on Netflix in the form of four feature-length episodes set over the course of a year.
When? Friday 25 November, Netflix
Dark Angel
Joanne Froggatt, who won a Golden Globe for her role in Downton Abbey, stars in this dark two-part drama based on the life Victorian serial killer Mary Ann Cotton. While moving around the north east of England, Cotton killed as many as 21 people, including three of her husbands and 11 of her children, by poisoning them with arsenic.
When? November, ITV
Rillington Place
In the 1971 film 10 Rillington Place, Richard Attenborough portrayed the real-life serial killer John Christie. Tim Roth, then, has big shoes to fill as he takes on the same role for this new three-part series about the infamous Notting Hill murders which horrified British society in the early Fifties. Samantha Morton co-stars as Christie's wife.

When? November, BBC One
Close to the Enemy
Writer and director Stephen Poliakoff, whose work hasn't been seen on television since 2013's Dancing on the Edge, brings us this new six-part series with an all-star cast (Freddie Highmore, Alfred Molina, Lindsay Duncan, Angela Bassett, and Robert Glenister – to name a few). The drama is set in a bomb-damaged London hotel in the aftermath of the Second World War and centres on a British spy (Jim Sturgess) whose last task for the army is to convince a captured Nazi scientist (August Diehl) to hand over the details of cutting-edge military technology.

When? November, BBC Two
My Mother and Other Strangers
Barry Devlin, the writer of this Second World War-set drama wrote the five-part series around lead actress Hattie Morahan because she "manages to combine a magical serenity with a capacity to be daft as a brush". Morahan plays Rose Coyne, who lives in rural Northern Ireland with her husband and children. When a huge US Air Force airfield is opened in the middle of their parish, Rose gets caught up in a love triangle with dashing liaison officer (played by Mad Men's Aaron Staton). Her children, meanwhile, remain oblivious.
When? Autumn, BBC One
Tennison
The detective, played for seven series by Helen Mirren in Lynda La Plante's Prime Suspect, gets her own prequel . This six-part series is set in the Seventies, on the mean streets of Hackney, and portrays Jane Tennison as a 22-year-old just starting out in her career. It's written again by La Plante and relative newcomer Stefanie Martini takes the role of Tennison, who suffers from flagrant sexism by her colleagues as she attempts to rise through the ranks.

When? Autumn, ITV
NW
Zadie Smith's 2012 novel, which was described by the Telegraph as "a joyous, optimistic, angry masterpiece", has been adapted into a 90-minute drama for BBC Two. Luther star Nikki Amuka-Bird and Phoebe Fox star as two friends who grew up together on a north-west London council estate but whose lives have taken different paths.

When? Autumn, BBC Two
Class
© Provided by The Telegraph This latest spin-off from Doctor Who, written by Patrick Ness, is set in the high school that featured in the very first episode way back in 1963: Coal Hill. Set among the school's sixth formers, the pupils endure the usual stresses of growing up, as well as some unexpected consequences of the Doctor's time travelling. He has managed to make the walls of space and time stretch too thin and monsters are planning to break through and wreak havoc on Earth.
When? Autumn, BBC Three and BBC One
Damned
Comedian Jo Brand, who brought us the excellent hospital sitcom Getting On and its sequel Going Forward, has written this new comedy drama with Morwenna Banks and Will Smith (the British comedian). The pilot first premiered as part of Playhouse Presents on Sky Arts in 2014 and has since been picked up by Channel 4. Once again we're in a welfare setting, this time among overworked and stressed social workers as they dodge everyday obstacles and battle against funding cuts. Brand and Banks co-star, alongside Alan Davies and Kevin Eldon.
When? Autumn, Channel 4
The Grand Tour
After 13 years on screen, Top Gear was still going strong when Jeremy Clarkson lost his temper over being served a cold meat platter instead of a piping hot steak. He was fired and his co-presenters Richard Hammond and James May departed with him. Now the team have reassembled over on Amazon Prime Video in a new show called The Grand Tour – so named because they will spend their time travelling the world, no doubt getting up to all kinds of blokeish japes along the way.
When? Autumn, Amazon Prime