10 Facts About Ina Garten That Prove She's Even Cooler Than We Originally Thought

PopSugar
6/12/2019
If you love Ina Garten as much as we do, you probably can't get enough of her delicious recipes and warm, welcoming demeanor. But what about her life outside of the kitchen? Besides her massive net worth, there are so many fun facts to learn about one of our favorite celebrity chefs. Keep reading to learn all about the Barefoot Contessa, and be prepared to fall just a little bit more in love with how cool she is.
She used to work in the White House. During the Ford and Carter administrations, she worked as a budget analyst in the White House Office of Management and Budget, handling finances for the nuclear energy budget. But after four years, she told her husband, "I really want to do something more fun than this."
The name Barefoot Contessa came from a movie. When Ina bought her first specialty store in 1978, the Barefoot Contessa in the Hamptons, NY, she learned the original owners had christened it after the 1954 film of the same name starring Ava Gardner and Humphrey Bogart. It's stuck with her ever since.
Ina was a teenager when she met her husband, Jeffrey. When she was visiting her brother at Dartmouth College when she was 15, she met her future husband, Jeffrey, and sparks flew. They married five years later.
The couple recently celebrated their 50th wedding anniversary. In December 2018, the still-happy couple celebrated their 50th wedding anniversary.
She got her pilot's license during the Vietnam War. While Jeffrey was serving in Vietnam, Ina refused to sit idly by. She decided to take to the skies, and after completing the requisite flying lessons, she earned her pilot's license.
Her favorite recipe is a cake. Ina's self-professed favorite creation is her fig ricotta cake. She considers it the best use of figs, and who are we to disagree?
She absolutely refuses to watch her own shows. For the Barefoot Contessa, being on TV is one of her most frightening experiences. Not only has she never seen herself on television, she told People in 2017, "I never watch cooking shows; certainly not mine. Not a chance. I would never do another show. I think I'm terrible!"
She joked that she could eat this one dish every night. In her latest book, Cook Like a Pro, Ina shares a simple dish she wouldn't mind eating on the daily: a salad with panko-crusted chicken. As a sneak peek before the book's release, she posted it on Instagram, writing, "This one-dish dinner has everything I want - tender mustard chicken with a crunchy panko crust, roasted fingerling potatoes, and a cold, crisp frisée salad with plenty of mustardy vinaigrette. I could eat this for dinner every night! Hope you love it too!"
She's turned down every offer to endorse a product - even the United Nations. Don't expect to see any sponsored social media posts from Ina anytime soon. "I've been asked to do everything from dining tables to clothing - who would want me to do their clothing? - to soy sauce," she said. "I was [recently] asked to do something with the United Nations. I mean, solve the problems of the world? Yeah, I'll make everyone chicken pot pie and they'll be happy!"
For her last meal, she'd choose a gourmet hot dog over fancy fare. If pressed to choose her last meal, she would surprisingly eschew a "sophisticated" dish in favor of fast food. Her preferred spot? A hot dog and french fries from Frenchie to Go in Paris.
Related video: Ina Garten reveals which store-bought foods are actually fine -- and a few she'd never buy [provided by Today]
More from Popsugar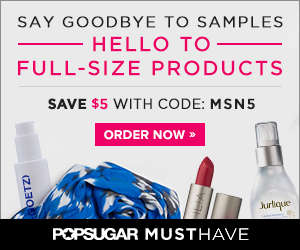 PopSugar