A Guide to Tehrangeles, Los Angeles's Pocket of Iranian Culture

Condé Nast Traveler
10/23/2021
The crackling pops of saffron-colored rice frying at the bottom of an old pot was the sound of dinner in my household growing up. The intense aroma of an herb-based stew called ghormeh sabzi wafted through the rooms as it simmered for hours. These are some of the most evocative memories of my childhood. Like most American-born Iranians, it is likely I won't walk the streets of Tehran in the near future and see the crowded Grand Bazaar where my parents would buy roasted pistachios, or stroll alongside the Darband River where local teenagers hang out. But the intense flavors of Persian cuisine are forever ingrained in me—my connection to my Iranian roots has been cultivated by way of food and the close-knit community in my hometown of Los Angeles.
Iran is a country with a complicated history and people that have been widely misunderstood and entangled in geopolitical turmoil. It is estimated that nearly 2 million immigrants left Iran in exile during the 1979 Islamic Revolution hoping for a better future. Over 500,000 of them have found refuge in L.A., where they are now part of the largest population of Iranians outside of Iran. "My family and probably a lot of families that flee their country think they're going to go back," says Maz Jobrani, an Iranian American comedian and actor in Los Angeles. The reality is most Iranians who left during that period would never return to their home country.
Many Iranian families settled in Southern California in the '70s, although large communities also exist in New York, Washington, and Texas. "I think it's so funny how culturally similar we all are even though there's so many of us dispersed across the world," says Jasmin Larian Hekmat, founder and CEO of fashion brand Cult Gaia.
Since the first Persian business opened in LA in the early '70s, on the corner of Westwood Boulevard and Wilkins Avenue, the area has become a hotbed for succulent kabobs and expensive ruby red saffron threads at specialty markets, earning Westwood the nickname Tehrangeles. In 2010, the City of Los Angeles officially recognized the corner of Westwood Boulevard and Wilkins Avenue as Persian Square.
To truly understand the essence of our culture, one must sit down for a meal. "Everything revolves around food for us," says Larian Hekmat. This local guide to the Iranian neighborhoods in Los Angeles will give you a little taste of the intimate community that surrounds them—through, of course, what many consider to be the best Persian food scene in the country. 
Where to eat
On a drab strip of Santa Monica Boulevard in West Los Angeles, Darya is a no-fuss restaurant serving what many locals claim to be the juiciest kabobs. Order the naderi soltani, which is a combination of the koobideh (ground beef) and barg (filet mignon) skewers, or go lighter with the salmon kabob. However you order, the restaurant "transports you to Tehran," says Sam Nazarian, founder and CEO of the food and beverage platform C3. He also loves the tahdig—the burnt rice delicacy of my childhood.
For freshly baked flatbread out of the tanoor (clay oven) and refined stews atop buttery basmati, head to Flame Persian Cuisine on Westwood Boulevard. And remember, no meal is complete without scathing hot Persian tea to wash it all down. Tucked away in a small courtyard on the corner of Westwood and Wilkins, Attari Sandwich Shop is best known for its thick ash reshteh soup made with barley and beans. Specialty sandwiches like the kotlet or the aromatic kuku sabzi, similar to a frittata but made with fresh herbs, are also popular here. If you're feeling adventurous, the beef tongue and maghz (brain) sandwich are sought-after delicacies. 
Toranj is a newcomer in Westwood, just north of Wilshire Boulevard, owned by a brother and sister duo, and serves tender chicken kabobs and a slew of hot and cold appetizers like roasted eggplant dip, cucumber yogurt, and a shirazi salad that could be a full meal in itself. The zeytoon parvardeh, from the north of Iran, is a tangy side dish of marinated olives bathed in thick pomegranate molasses. You won't find this at most Persian restaurants, and it can't be missed.
The female-owned Taste of Tehran, which made a cameo in an episode of Parts Unknown: Tehrangeles, is also a local favorite. "When she has fesenjoon, it's amazing," says Larian Hekmat of Cult Gaia. "Make sure you get mast o mousir [a yogurt and shallot dip] and make a loghmeh [which is Farsi for] the perfect bite." Over in Glendale, which is home to a large Iranian Armenian community, Raffi's Place is known for its generous portions of beef and chicken kabobs that always draw a long line. Try the beef soltani for a combination of ground beef and filet mignon skewers.
Where to satisfy your sweet tooth
Saffron and Rose, a third-generation ice cream shop (formerly known as Golo Bol Bol) serves distinctly Persian flavors like saffron pistachio, pomegranate, and white rose. The newly opened Mashti Malone's is another popular ice cream shop that serves vermicelli-filled faloodeh, which is similar to sorbet and traditionally topped with lemon juice and cherry syrup. For dry pastries and other sweet treats, Pink Orchid Bakery serves bomeeyeh, a Persian donut—small round balls of fried dough soaked in sugar and rosewater syrup.
Shops to stock up at
The stretch of Pico Boulevard between Beverwil Drive and La Cienega Boulevard is concentrated with Kosher restaurants, markets, and Judaica shops that have everything you need to make a Persian Jewish grandmother proud. The most iconic is the Iranian Kosher supermarket, Elat Market, which is a social gathering place for elderly Iranian women as much as it is a grocery store. Friday mornings tend to be busiest as customers prepare for lavish Shabbat dinners (the market is closed on Saturdays in observance).
A few doors down, locals flock to Kabob by Faraj, a Kosher butcher and no-frills eatery where you can pick up ready-to-grill marinated kabobs for Sunday barbecues, and, on Fridays, a traditional Persian meatball dish, gondi, that is only served on Shabbat. Mid-week, locals will sit for a quick meal of piping hot chicken kabobs and barg served à la carte.
When you need a break from eating, pop into Mansour on Melrose Avenue to shop an impressive collection of handmade tapestries.
Where to learn more
Every year, the Spring equinox (usually around March 21) marks the beginning of the Persian New Year, also known as Nowruz. Bright pink and periwinkle hyacinth flowers perfume the sidewalks of Westwood Boulevard and many of the shops place a traditional haft seen on display—an arrangement of seven symbolic items that start with the letter "S." The largest Nowruz festivities take place at UCLA and will resume in 2022 (event details will be posted here).
Between October 3 and January 9, 2022 the Craft Contemporary Museum will debut The Charm of the Unfamiliar, an exhibit by Iranian artist, Pouya Afshar that tells the story of immigration, resilience, and displacement. Other year-round Iranian events and programs can also be found through the Farhang Foundation, a non-profit organization with a mission to promote Iranian history and culture.
More from Condé Nast Traveler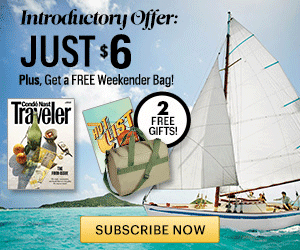 Condé Nast Traveler