Grab Your Sheet Pan, We've Got a 20-Minute Chicken Dinner

Food52
4/25/2018
It's no secret I love sheet-pan dinners. They're last-minute, do-it-all meals that come with the added bonus of easy cleanup. They're a busy (and hungry) cook's best friend. Which is probably why Food52 favorite Melissa Clark's got a soft spot for them, too.
In her latest book, Favorite Recipes from Melissa Clark's Kitchen, Clark (with the aid of a sheet pan) transforms kitchen staples of chicken, apples, and coriander into a satisfying dinner in just 20 minutes.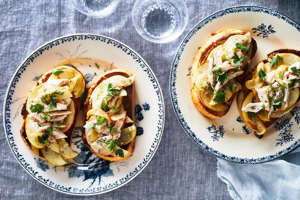 "The beauty of this recipe is not just the gorgeous melding of flavors, but how quickly and easily I can throw it together all year round," she writes. "Cut into finger-size strips, the chicken and very thinly sliced apples cook in only twenty minutes, during which time they miraculously produce a pan sauce that is fragrant and heady. "
To give the chicken an extra dimension, Clark adds a cilantro and coriander seeds with a splash (okay, maybe two splashes) of gin.
"[When developing this recipe] I tipped in some vermouth from the too-tall bottle in the fridge, and was about to stick everything in the oven when I started to worry that the subtle flavor of vermouth wouldn't be lively enough to lift the dish. Then I remembered the words of my father when he counseled me on zipping up a scallop pan roast. 'Gin,' he said, 'makes everything taste better.'"
The result—a juicy, saucy chicken that's just waiting for a thick slice of crusty bread (or a bowl of rice if you don't mind making it). And maybe a gin and tonic, but that could just be me.
Serves 2 to 3
1

large or 2 small apples

1

pound boneless, skinless chicken thighs, cut into 1-inch strips

2

tablespoons extra-virgin olive oil

1

tablespoon white vermouth

1 1/2

teaspoons gin

2

tablespoons chopped fresh cilantro, dill, or parsley

2

garlic cloves, minced

1

teaspoon coriander seeds

1/2

teaspoon kosher salt

1/2

teaspoon freshly ground black pepper
Related gallery: 20 Times Rotisserie Chicken Gets You Halfway to Dinner