Mondays Are Hard, This One-Pot Chicken Recipe is Not (& It's Dinner!)

Food52
9/11/2017
It can be hard to enjoy dinner when you're thinking about the mess waiting for you in the kitchen. How did you possibly use 10 spoons and 2 pans and 3 dishtowels? It seems like a cruel trick!
To save you from being elbow-deep in a sink of dirty dishes, please accept this gift—by way of onetinyspark—of Chicken Thighs with Tomato, Orzo, Olives, and Feta. It cooks in one pot and you only have to chop three ingredients: garlic, olives, and grape tomatoes (and hey, there's a handy trick for expediting that last one!).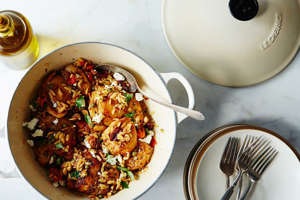 Chicken Thighs with Tomato, Orzo, Olives, and Feta by onetinyspark
But what use is a one-pot dish that doesn't give you joy? What's convenience without satisfaction? This recipe—we said it was a gift, right?—offers both.
Why it works:
To build flavors in the same pan, you'll coax the most out of each component:
The orzo: Take a couple of extra minutes to toast the orzo before you really dive into the recipe. Much like roasting pasta or toasting grains, this extra step imparts a deeper, toastier flavor.
The chicken: By browning the thighs, seasoned with dried oregano and paprika, you'll do justice to the chicken skin and prep the pan for the next step.
The cooking liquid: With the chicken thighs in the wings (and out of the pan), you'll sauté garlic, then add tomatoes and chicken stock. Return the orzo and the chicken to the pot for a 15-minute staycation, after which you'll be left with savory orzo, flavorful-all-the-way-through chicken, and bubbly, sweet-salty tomatoes.
How to make it even faster:
If you're looking to streamline the process even more, you can rearrange the steps outlined above. Brown the chicken, set it aside, then move onto the orzo: Toast it the chicken fat and minced garlic (risotto-style), then add the tomatoes and broth and proceed with the recipe as written.
How to switch it up:
Use chopped full-sized tomatoes if you don't have grape ones, and add other fresh herbs (oregano, chives, thyme...) that you have. Stir in Parmesan pebbles in place of feta crumbs.
You can even swap out of the orzo for a similar small pasta like couscous or even a grain like farro (but be aware that the cooking time might change—you may have give it some more time before you add in the chicken).
After you cook the chicken, deglaze the pan with a splash of white wine before adding the minced garlic and the orzo.
Switch out the Kalamatas for Castelvetrano olives.
Add chile flakes or chopped preserved lemon or a squeeze of harissa when you sauté the garlic.
Ready? Set? Dinner!
Chicken Thighs with Tomato, Orzo, Olives, and Feta
By onetinyspark
2 tablespoons olive oil
1 1/2 pounds boneless chicken thighs
1 teaspoon dried oregano
1/2 teaspoon smoked paprika
1/4 teaspoon red pepper flakes
1 cup orzo
3 garlic cloves, minced
8 ounces grape tomatoes, halved
1 1/2 cups low-sodium chicken broth
1 tablespoon capers
2 tablespoons Kalamata olives, halved
1/4 to 1/2 cups crumbled feta
Fresh basil, chopped
Kosher salt and freshly ground black pepper to taste
Drizzle of finishing olive oil—I like the smoked variety
GALLERY: 18 Dinner Recipes That Require No Planning Ahead
18 Dinner Recipes That Require No Planning Ahead