Sheet-Pan Shrimp Scampi for When You're Alone & Happy Alone

Food52
11/8/2018
Table for One is a column by Senior Editor Eric Kim, who loves cooking for himself—and only himself—and seeks to celebrate the beauty of solitude in its many forms.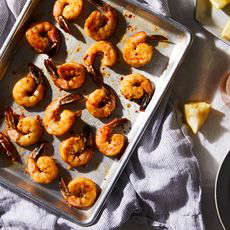 © Provided by Food52 86bda584 cedf 42a7 a344 0a764ca6f624 2018 1019 sheet pan hawaiian garlic shrimp scampi 3x2 ty mecham 001 When I was in Hawaii, I ate these large fleshy shrimp that had been turned with what tasted like garlic, soy, and mirin. Though it was listed as "Garlic Shrimp" at this Chinese restaurant which was, undoubtedly, for tourists, I don't know that they were properly "Hawaiian garlic shrimp" but rather very garlicky, very delicious shrimp at a Chinese restaurant that happened to be in Waikiki, Honolulu.
When I came home I sought to recreate this shrimp in my own kitchenette. Always a glutton for shortcuts (I'm a busy single man), I turned, as I often do, to my most adored kitchen appliance to date: the quarter sheet pan. It's a mere 9x13 inches, just larger than a piece of printer paper, and there couldn't be a more perfect oven vessel for solo dinners.
As my colleague Emma Laperruque once wrote in a love letter to the sheet pan, "If there's anything cuter than a quarter sheet pan meal, just for me, I don't know it, and I don't want to."
When roasted at high heat in a quarter sheet pan like this, marinated shrimp cooks up gorgeously and begins to caramelize in its own juices, creating a sauce that's made even saucier thanks to a last-minute pat of butter and spritz of lemon juice. Though the usual scampi players are present (garlic, lemon, and red pepper flakes), I went with mirin instead of white wine and soy sauce instead of salt, lending it some of that Waikiki palate.
I anticipate that many will wish to skip the optional pinch of sugar, but I implore you not to; for me, anyway, this dish didn't fully come together until that one pinch. But to each their own: That is the point of cooking for yourself, isn't it? You can tailor a recipe to your predilections.
As for my predilections, I like to eat this straight out of the pan with a bowl of white rice and an ice-cold beer.
Sheet-Pan Shrimp Scampi for One
By Eric Kim
1/2 pound shrimp, peeled and deveined
2 cloves garlic, grated
1 tablespoon soy sauce
1 tablespoon mirin
1 tablespoon olive oil
1 pinch sugar, optional
1/2 teaspoon red pepper flakes
1/2 lemon, zested and juiced
1 tablespoon butter
1 bowl white rice, for serving
-
What's your go-to weeknight dinner for one? Let us know in the comments below.