This 2-Ingredient Holiday App Is a Real Compliment Magnet

Food52
12/5/2018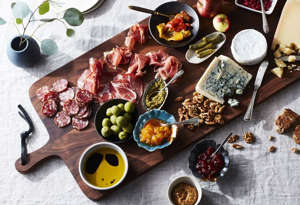 © Provided by Food52
It's the most wonderful time of the year—so bring on the comfort & joy, we say. In The Art of Chill Holidays, we'll show you how we keep celebrations low-key, with festive decor tricks, clever time-saving tips, and scrumptious spreads of snacks (always snacks!).
I'm forever on the hunt for irresistible party foods. I am a true people-pleaser, and nothing gives me more satisfaction than guests going in for another savory pinwheel or another dip-loaded chip, teetering on the brink of breakage. I love an appetizer so good it will (politely) interrupt a tête-à-tête, forcing the parties to look down at their hands and proclaim they just need this recipe for themselves before diving in for another bite.
I knew, then, when I first had a taste of chef Behzad Jamshidi's mascarpone and honey dip, this would be a dish that would be gracing many upcoming party spreads. The talented chef and founder of Moosh, who hails from Vancouver and currently calls New York home, draws from his Persian roots in creating flavorful riffs on time-honored classics. During a recent dinner, where a stream of beautiful, comforting dishes were paraded out, I couldn't get myself to move on past the appetizer course.
"What is this?" I whispered to my reliable eating buddy, Food52 Managing Editor Joanna Sciarrino, tearing another hunk of fresh barbari bread to drag through this heaven on a plate. I knew it was mascarpone, but I'd never had mascarpone quite like this before. During a break between courses, I made sure to get to the bottom of this irresistible dish.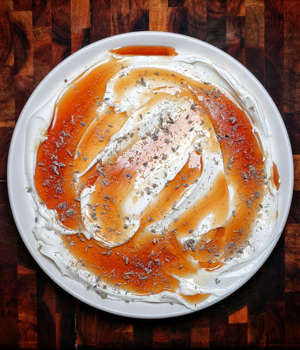 "It's just good-quality mascarpone and honey, topped with lavender salt (made by grinding equal parts lavender and coarse salt in a mortar and pestle) and freshly cracked black pepper," Behzad told me. "The key is to leave the mascarpone out, in its container on the counter, for at least an hour before serving—it helps temper the cream, which makes it both smoother and better with the honey."
Let's talk about that honey for a moment. When a recipe calls for essentially two ingredients, you've gotta make 'em good! Behzad used the Hon-E-Lixr Creamed Honey from Tremblay Apiaries, which was the perfect complement to the rich and tangy mascarpone, but any wildflower honey (like Bee Flower & Sun Honey Co.) or raw honey (like Y.S. Organic Bee Farms and Really Raw) would taste great here.
The spread was inspired by the Iranian breakfasts Behzad would have with his family growing up. "Fresh bread always accompanied some form of milk product and honey, whether that was milk skins, clotted cream, or pressed yogurt," he explained. "You could always count on dairy and honey making it to the morning table." If you also start your days with a yogurt and honey ritual, I have high faith you'll be into Behzad's interpretation, too.
While exceptional on its own, this dish can also be taken for a holiday spin: "Get creative by adding festive touches, like fresh orange zest, grated nutmeg, or a light dusting of cinnamon," the chef suggested. "Spread your mascarpone with the back of a spoon on a flat plate, drizzle it liberally with honey, and top it with flaky salt and cracked black pepper."
The bottom line? Mascarpone + honey = guaranteed kudos. Sit back and wait for eager partygoers to ask you for the couldn't-be-easier "recipe."