31 Quick Southern Recipes We Love

Taste of Home
1 day ago
The recipe for these four-ingredient homemade buttermilk biscuits has been handed down for many generations. —Fran Thompson, Tarboro, North Carolina
This is a yummy dish. My husband loves the kick that the sausage gives this quick gumbo, and it's such a cinch to assemble. —Amy Flack, Homer City, Pennsylvania
I absolutely love tomatoes, any kind, any size. Being from the South, that includes fried green tomatoes. I created a special summer sandwich to show them off. —Hillian Holmgren, Del Rio, Texas
It seams Mom was always making biscuits. She served them plain for breakfast and dinner, especially when we had stew or baked beans. My favorite was when she served them like this—topped with fresh strawberries and whipped cream! —Elaine Gagnon, Pawtucket, Rhode Island
Browned potatoes give simple ham a tasty touch. Not only do the potatoes pick up the flavor of the ham, but they look beautiful! Just add veggies or a salad and dinner is done. —Helen Bridges, Washington, Virginia
I'm not a big fish lover, so any concoction that has me loving fish is a "keeper" in my books. This combination of flavors just works for me. It's wonderful served with a nice buttery herb rice pilaf and corn muffins with butter and honey! —Kelly Williams, Forked River, New Jersey
Using precooked chicken and ready-made biscuits, this hearty dish is comfort food made simple. It's the perfect way to warm up on chilly nights. —Lakeya Astwood, Schenectady, New York
Time to gather round the table, y'all! This dish has special meaning on New Year's Day, when Southerners eat greens for future wealth and black-eyed peas for prosperity. —Athena Russell, Greenville, South Carolina
I was born and raised in the South. A few years ago I moved to Pennsylvania, where good Southern comfort food was hard to find. So I created these creamy, smoky Cajun shrimp and grits to remind me of home. —Kailey Thompson, Palm Bay, Florida
The crunchy exterior of these southern-style snacks is a nice contrast to the moist cornbread. Jalapeno peppers and hot sauce add a hint of heat. —Taste of Home Test Kitchen
If you have picky eaters who worry about texture, roasted okra is marvelous. It's OK to crowd the pan. Okra shrinks as it cooks. —Anna Katsoulis, Greenville, North Carolina
At our house, we're big on healthy eating. These ultra tender chops with colorful rice and black-eyed peas are a meal fancy enough for a dinner party. —Annie Holmes, Murfreesboro, Tennessee
Cornbread is essential at family dinners, and with the addition of bacon and pimiento cheese, you'll have requests for more long after the get-together! —Holly Jones, Kennesaw, Georgia
Guests are always impressed when I ignite the rum in this delicious bananas Foster dessert. Use perfectly ripe bananas for best results. —Mary Lou Wayman, Salt Lake City, Utah
The tattered recipe card for this buttermilk cornbread proves it's been a family favorite for years. It's my daughter's top request. —Judy Sellgren, Grand Rapids, Michigan
If it's ham, my kids will eat it, but they like this kicked-up recipe best of all. Even the small ones eat adult-sized portions, so be sure to make plenty. —Mary Ann Lien, Tyler, Texas
I'm really not big on tomatoes—but I do like them green and fried, so I decided to try them in a sandwich. It was a smash! If you've gotta have cheese, add sharp cheddar to this indulgent twist on the traditional BLT. —Stacy King, Rome, Georgia
Make a big impression when you present one family-sized bacon pancake. The brown sugar adds sweetness that complements the salty bacon. If you can fit more bacon in the skillet and want to add more, go for it. —Mindie Hilton, Susanville, California
When the tomatoes are green in the garden, my husband and sons are thrilled to know this dish will appear on several weekly menus. I've passed the recipe on more times than I can count.
For my mother's 92nd birthday, we had pimiento cheese deviled eggs as part of the spread. They're timeless and always in good taste. —Linda Foreman, Locust Grove, Oklahoma
The recipe for these mild-tasting biscuits was my grandmother's. They're a family favorite that we always serve at holidays. —Nancy Daugherty, Cortland, Ohio
As the tomato season draws near and you have a bumper crop of green tomatoes on your vine, reach for this one-of-a-kind jam! Everyone is pleased with its great taste.—Norma Henderson, Hampton, New Brunswick
Guests will have a touch of nostalgia when they bite into one of these old-fashioned doughnuts. Accents of nutmeg and cinnamon, along with a subtle burst of lemon, make them hard to resist. — June Jones, Harveyville, Kansas
Golden brown with a little fresh green showing through, this fried okra recipe is crunchy and addicting! My sons like to dip them in ketchup. —Pam Duncan, Summers, Arkansas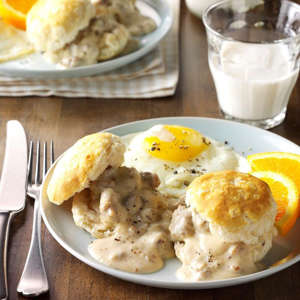 This biscuits and sausage gravy is an old southern recipe that I've adapted. Homemade sausage gravy is a classic, hearty breakfast that takes you on a trip to the South every time it's served. —Sue Baker, Jonesboro, Arkansas
Here's a lightened-up take on the classic southern comfort-food dish: chicken and gravy. This recipe has been a hit at our house since the first time we tried it! —Ruth Helmuth, Abbeville, South Carolina
This twist on the traditional po'boy sandwich adds flavor and veggies while reducing fat and calories. For a smoked flavor, grill the shrimp. For a lower-carb option, serve the po'boy open-faced on a baguette half. —Melissa Pelkey Hass, Waleska, Georgia
Frito pie is legendary in the Southwest for being spicy, salty and cheesy fabulous. Here's my easy take on this crunchy classic. —Jan Moon, Alamogordo, New Mexico
I like cooking with buttermilk. These golden buttermilk waffles are my husband's favorite breakfast, so we enjoy them often. They're as easy to prepare as regular waffles, but their unique taste makes them exceptional.
I first made this ham salad recipe for a shower, and everyone raved about it. Now when I go to a potluck, I take it—along with copies of the recipe. —Patricia Reed, Pine Bluff, Arkansas
Enjoy breakfast the New Orleans way with these warm, crispy bites. Topped with powdered sugar, they are a delight! —Lois Rutherford, Elkton, Florida
The post 31 Quick Southern Recipes We Love appeared first on Taste of Home.
MORE FROM TASTE OF HOME

Taste of Home