40 Midwestern Recipes That Will Keep You Warm All Winter Long
Wow! The wine-warmed flavors in this recipe are amazing! Packed with wholesome veggies and tender beef, this is one company-special dish all ages will like. Serve with mashed potatoes to enjoy every last drop of the rich, beefy gravy. —Angie Stewart, Topeka, Kansas
This is one of my mother's best recipes! I'm sure your family will be delighted with it, too. Serve it as a dessert or a very special breakfast treat. —Jerri Gradert, Lincoln, Nebraska
My mom made this stew when I was young, and it was always a hit. Since it's not time-consuming to make I can fix it on a weekend for our children, who love the tender dumplings. —Becky Mohr, Appleton, Wisconsin
Ground beef, sausage and cheese make this tater tot casserole with green beans a crowd-pleaser. Cayenne pepper and hot Italian sausage give it a pleasant kick. —Ryan Jones, Chillicothe, Illinois
Your family will love the contrasting sweet, savory and slightly tart flavors in this spin on a Thanksgiving classic. Feel free to use your favorite beer or dried fruit to make the dish your own. —Andrea Fetting, Franklin, Wisconsin
Even folks who aren't fans of ground venison recipes will enjoy these zippy burgers, deliciously topped with pepper cheese and a cool lime-mustard mayonnaise. My son, who's an avid hunter, gave me this super venison burger recipe. —Jerry Honeyager, North Prairie, Wisconsin
I have handed out this recipe to more people than any other. It has a delicious nutty flavor. Use it to top waffles or pancakes. Or mix with vanilla or plain yogurt for a light and quick dessert.
We often eat easy-to-make soups when there's not a lot of time to cook. I replaced the wild rice requested in the original recipe with a boxed rice mix to make it even faster. —Lisa Hofer, Hitchcock, South Dakota
These loaded breakfast biscuits are full of hearty breakfast ingredients like eggs, bacon, mushrooms and cheese! They are perfect to bake up on the weekends, then freeze for a quick weekday breakfast. A gluten-free flour blend can be substituted for the all-purpose flour. —Courtney Stultz, Weir, Kansas
I love this cast-iron banana bread because it cooks evenly every time. The end result is so moist and delicious! —Ashley Hudd, Holton, Michigan
This creamy, cheesy broccoli soup tastes just like the one served at Panera Bread! My family requests it all the time. You can even make your own homemade bread bowls with the recipe on my blog, Yammie's Noshery. —Rachel Preus, Marshall, Michigan
Cauliflower gratin is a lower-carb side dish that pairs well with pork, ham or beef. It's so creamy and delicious that even the kids will ask for seconds! If you like a little crunch, sprinkle buttered bread crumbs over the top after 30 minutes of baking. — Mary Zinchiak, Boardman, Ohio
The Polish dumplings are traditionally served as a meal, with applesauce or sour cream. This meal in one is a different way to use pierogi. —Greta Igl, Menomonee Falls, Wisconsin.
When I want to impress company, these satisfying sandwiches are my first pick for the menu. I serve them with the cooking juices in individual bowls for easy use. —Florence Robinson, Lenox, Iowa
These blueberry cornmeal pancakes are one of my family's favorite breakfasts. No time to make it from scratch? No problem! My grandmother's standby of store-bought corn muffin mix makes quick work of the job. —Carolyn Eskew, Dayton, Ohio
This could be the perfect bread for any dish. The sharp cheddar cheese makes it irresistible.—
Taste of Home
Test Kitchen, Milwaukee, Wisconsin
I got this delightful beef burgundy recipe from my sister-in-law many years ago and have used it ever since. Whenever I serve it to guests, they always request this. The tender beef, mushrooms and flavorful sauce are delicious over noodles. —Margaret Welder, Madrid, Iowa
I love this chocolate babka. It's a rewarding recipe for taking the next step in your bread baking. Even if it's slightly imperfect going into the oven, it turns out gorgeous. Look at those swirls! —Lisa Kaminski, Wauwatosa, Wisconsin
This recipe was passed on to me by a friend. I've altered it slightly to suit our tastes. We like it with a fresh green salad. —Leann Hilmer, Sylvan Grove, Kansas
This chunky stew makes a hearty supper, especially in the fall and winter. It'salso a great way to use extra turkey during the holidays. —Lori Schlecht, Wimbledon, North Dakota
This cozy recipe is delicious for breakfast or brunch. I usually make a double batch because everyone wants more! With our own orchard, we have plenty of Delicious and Winesap apples—they make this a true midwestern meal. —Ruth Schafer, Defiance, Ohio
This is the family favorite dish for special occasions, and we always make it for my granddaughter's birthday. Mushrooms are a wonderful addition if you like them. —Vickie Oldham, Dubuque, Iowa
The pretty potatoes I had just harvested from my garden inspired me to mix them up for dinner. The results: a wonderful side dish. —Lori Merrick, Danvers, Illinois
With their cheery yellow color and delicious aroma, these appealing buns will brighten your buffet table. Plus, I've found this recipe is a wonderful way to use up squash from the garden. —Bernice Morris, Marshfield, Missouri
As a full-time teacher, I only have time to cook from scratch a few nights each week. This
slow-cooker soup
recipe makes a big enough batch to feed my family for two nights. —Julie Kruger, St. Cloud, Minnesota
With the help of a slow cooker, you can prepare a down-home dinner any day of the week, not just on Sundays. The roast turns out tender and savory every time. —Brandy Schaefer, Glen Carbon, Illinois
When it comes to mashed potatoes recipes, this is one of my favorites because they can be made ahead, refrigerated and then popped into the oven just prior to dinnertime. When my grandchildren come for dinner, I have to double this recipe. They love it! —Vivian Bailey, Cedar Falls, Iowa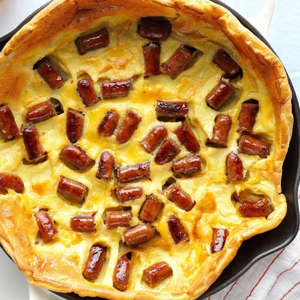 I have fond memories of my grandmother's Yorkshire pudding wrapped around sausages, a puffy dish my kids called "the boat." Slather it with butter and maple syrup. —Susan Kieboam, Streetsboro, Ohio
There's just something extra special about a homemade applesauce recipe like this one. This simple dish is tart and not too sweet. It makes the perfect side, especially with pork chops or a pork roast. —Deborah Amrine, Grand Haven, Michigan
This recipe goes back at least as far as my grandmother, who was born in the early 1900s. Our sons and I enjoy eating it in a bowl with milk poured on it—much to the dismay of my husband, who prefers it plain! —Kathy Nienow Clark, Byron, Michigan
As children, we always requested this dish for our birthday dinners. Our mother got the recipe from her grandmother. Now I pass on our tasty tradition. —Ruth Keogh, North St. Paul, Minnesota
This hearty combination of sausage, hash browns and eggs will warm you up on a cold winter morning. —Bonnie Roberts, Newaygo, Michigan
We punch up our pasta with smoked sausage and fire-roasted tomato sauce. It's an easy recipe to switch up—use whatever noodles and spaghetti sauce are in your pantry. —Jean Komlos, Plymouth, Michigan
Who knew you could amp up the fun factor for pigs in a blanket? Sprinkle ranch seasoning on top before you bake. And if you still can't get enough of that tang, dip 'em in ranch dressing before you take a bite. Holy cow, it's good! —
Taste of Home
Test Kitchen
Enjoy this chowder's rich, slow-simmered flavor in record time by using an Instant Pot. Corn chowder is a classic staple, with its hearty flavors of creamy sweet corn, bacon crumbles, shredded cheddar cheese and chopped parsley. —Taste of Home Test Kitchen, Milwaukee, Wisconsin
This dish is perfect on cold winter days, especially after we have been out cutting wood or white-tail hunting. If you are lucky enough to have venison, try it here for melt-in-your-mouth goodness. —Brenda Ryan, Marshall, Missouri
The golden crust and creamy sauce make this veggie-packed pie a surefire hit. Mild and comforting, the family favorite has convenient freezer instructions for a night when there's no time for prep. —Taste of Home Test Kitchen
This recipe is one of my family's favorite. The pork always tender and fragrant.—DeEtta Rasmussen, Fort Madison, Iowa
There's nothing quite like the comfort of warm homemade soup, and it's even better when your slow cooker does most of the work for you! This slow-cooker minestrone is easy to put together but has all the flavor of a high-effort dish. —Erin Raatjes, New Lenox, Illinois
The post 40 Midwestern Recipes That Will Keep You Warm All Winter Long appeared first on Taste of Home.