5 Flavor-Packed Sauces to Jump-Start a Week of Meals

Food52
4/16/2018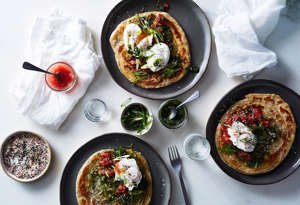 Does anyone else remember the time—probably around 2010—when calling something "the sauce" wasn't lame? I was in high school, and I remember awkwardly using the term to describe a TV show I loved. It's safe to say I was not very saucy.
Some things stand the test of time, and "the sauce" is not one of them. But want to know something genuinely timeless? ACTUAL sauce.
I don't mean in a historical sense (although, hey, we can go there), but more in the you-make-a-batch-and-it-lasts-all-week sense. No matter whether you prefer creamy yogurt sauces, spicy zhug, or tried-and-true tomato, you can build a whole slew of meals around one sauce. It's versatile like that, not subject to passing fads. And to prove it, here are five sauces that have still got it all week long.
Tomato Sauce
We're big, big fans of Marcella Hazan's Tomato Sauce with Onion & Butter. Simply add fresh or canned tomatoes with butter, onion, and salt, and cook uncovered at a very slow but steady simmer for about 45 minutes. And here's where that'll take you: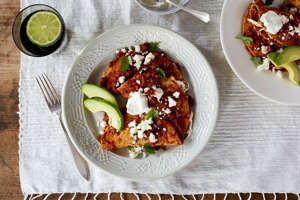 Entomatadas (Cheese-Filled, Tomato Sauce-Smothered Tortillas) by Sarah Jampel
Xo sauce
Fatty, briny, garlicky XO sauce is so overtly rich that it steals the show from almost every pasta/vegetable/grain/fish it meets. Let it turn these dishes into gold: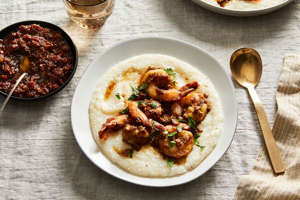 Shrimp with Coconut Milk Grits & XO Sauce by Alicia Lu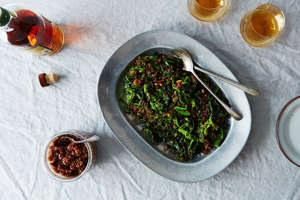 XO Sauce with Broccoli Rabe by Leslie Stephens
Yogurt sauce
As recipe author/salad wizard EmilyC sums it up: "This yogurt dressing takes 5 minutes to make, can be assembled, shaken, and stored in a jar, and is easily made thicker or thinner by adding more yogurt or more oil. It can also be jazzed up in countless ways: fresh herbs, spices, roasted garlic, tahini, you name it!" Here's how we'd like it:
Zhug
Made from fresh parsley and cilantro pulsed with spices and hot peppers, zhug is like a fresh, fiery Middle Eastern pesto. Just adjust the heat to your taste buds and dollop it on eggs, spread onto sandwiches, or try it with one of these recipes: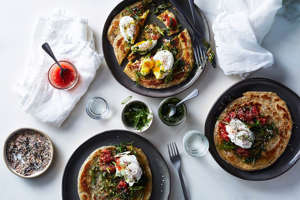 Malawach (Yemenite Jewish Pancakes) by Lyna Vuong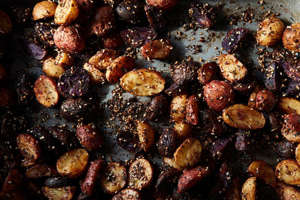 A Medley of Roasted Potatoes with Homemade Za'atar & Aleppo Pepper by onetribegourmet
Chutney
Hot, tart, sweet, or a tasty mixture of all three, chutneys are flavor bombs that turn up the volume on any dish. Whether your chutney starts with herbs, vegetables, or nuts, it's an easy way to build a week of meals: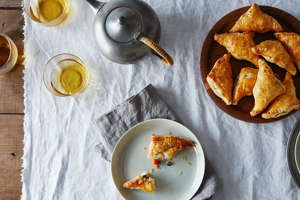 Flaky Baked Samosas by Kendra Vaculin
Related gallery: 11 One-Pot Pastas To Make With What's In The Fridge